Dreamliner Engine Fix Is Said to Face Delay Risk on Scarce Parts
Rolls-Royce Parts Shortage Is Said to Delay 787 Engine Fix
(Bloomberg) -- Rolls-Royce Holdings Plc is wrestling with a shortage of parts needed to repair hundreds of faulty engines that power Boeing Co.'s 787 wide-body jets, further stretching a tight timetable for repairs.
The fix for excessive wear on the Trent 1000 turbines is taking about three days longer than planned in some cases due to a shortfall in stocks of compressor blades, said the people, who asked not to be named as the supply bottleneck hasn't been made public.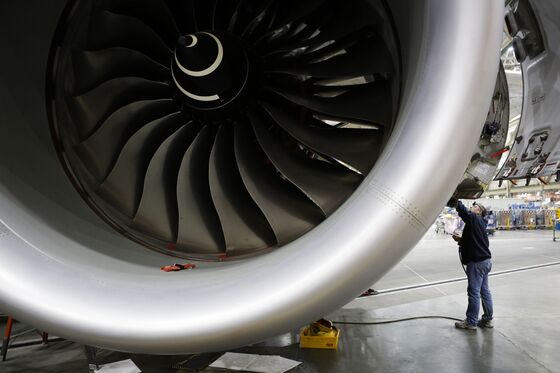 Airlines are already being forced to lease replacement planes, sometimes for months, to maintain flights while Rolls-powered 787s are grounded for repairs. The number of idled jets reached 43 last week, according to the people, and the strain on component supplies could worsen after it was revealed Monday that durability issues extend to an earlier version of the engine.
The parts crunch comes as Chief Executive Officer Warren East prepares to unveil job cuts from steps to simplify the business and improve margins. The restructuring, which Rolls plans to detail Friday, could see the elimination of 10 percent of the payroll, or about 5,000 posts, JPMorgan Chase & Co. estimates.
Rolls has dedicated almost £1 billion ($1.3 billion) in cash to address the engine issues, and analysts will be eager to learn how confident management is that the Trent 1000's durability issues won't crop up in other company programs such as the XWB and Trent 7000, said Sanford C. Bernstein analysts Christian Laughlin and Douglas Harned.
"We will look for management comments on whether this has been thoroughly evaluated and what the risks of further contamination are," they said in a report Wednesday.
Rolls told Bloomberg that extra maintenance work on Trent 1000 engines has placed additional pressure on its component manufacturers.
"Their response has been exemplary and we are confident that the initiative shown by all our suppliers is making an important contribution to the containment and resolution of this issue," the company said.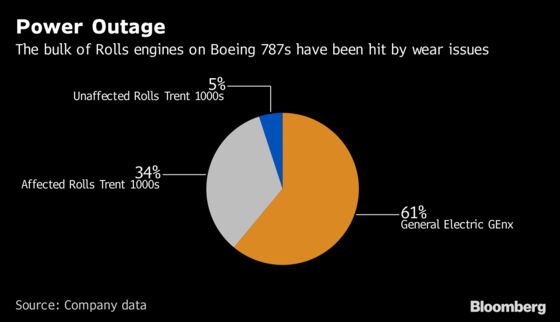 Chicago-based Boeing said in an email that it fully supports the action Rolls is recommending to "further understand" the issue.
Rolls fell 1.5 percent to 828.6 pence at the close in London. Boeing slid less than 1 percent to $368.96 at 12:28 p.m. in New York.
The faster-than-expected deterioration of the Trent 1000's blades first came to light in 2016. More and more airlines reported damage to a batch of engines known as Package C last year and in April regulators intervened, ordering emergency shop visits for 383 suspect turbines and limiting flights for the 787s equipped with them to 2 hours 20 minutes from the nearest landing spot.
Engines are far and away the most stressed part of a plane, with turbine blades running at temperatures 200 degrees above their melting point but protected by exotic coatings and cast from a single metal crystal for added strength.
Rolls's turbine blades are forged at a handful of sites globally that it controls, including a new factory in Rotherham, England, that was billed as the world's most-advanced facility when it opened in 2015. The company has only one supplier for titanium compressor blades, Techjet Aerofoils Ltd., a venture it partly owns, though efforts are underway to source further producers for both items, according to the people.
Only four players globally dominate the highly complex process of making turbine blades through a process known as investment casting. Producing a single blade can involve as many as 200 processes, from forming a wax mold to enveloping the part in a heat-resistant ceramic coating.
"If there's a shortage of turbine blades, then it's much harder to ramp up capacity because the supply base is much more limited," said Kevin Michaels, managing director, AeroDynamic Advisory.
Rolls has also taken steps to certify an inspection method that allows work to be carried out with engines still on the plane wing, something that would ease the burden on overwhelmed maintenance shops. The company is also reaching out to third-party repairers to expand Trent 1000 overhauls beyond its own sites in Derby, England, and Singapore, the people said.
Rolls is meanwhile working on new designs aimed at resolving the wear issues. Testing starts this month on a new compressor blade, with new turbine blades to be unveiled in July. They would then need to be retrofitted to all 787s with engines prone to problems, including those being given new parts now and others that might be expected to develop issues later.
A further 166 turbines were added to the worry list this week with Rolls's disclosure that some intermediate-pressure compressors on older Package B engines are now showing signs of accelerated wear, taking the total number to be examined close to 550. About one-third of Package C turbines checked so far have required attention.
Even before the degradation problem emerged, Rolls and its suppliers were stretched by record orders. The company is ramping up output of the Trent XWB engine for Airbus SE's A350, while the Trent 7000-powered A330neo is about to enter service and Boeing plans to hike the 787 rate to 14 a month next year.
The U.S. planemaker has sent teams of engineers to Rolls, along with Keith Leverkuhn, a vice president who shepherded the 737 Max program, indicating the seriousness with which it views the Trent 1000 crisis. About 60 percent of 787s have been ordered with General Electric Co. engines that aren't prone to similar degradation, helping Boeing to manage the issue -- for now.
John Plueger, CEO of U.S. plane-financing giant Air Lease Corp. said Rolls may to be getting a handle on the Trent 1000 problem technically, but that the engine maker's ability to fix it "resource-wise" is a major concern.
"You look at the supply chain and you have a real constrained ability for these engine manufacturers to ramp up production and support new aircraft as well as the in-service fleet," he said.
--With assistance from Mary Schlangenstein and Richard Weiss.
To contact the reporters on this story: Julie Johnsson in Chicago at jjohnsson@bloomberg.net;Benjamin Katz in London at bkatz38@bloomberg.net
To contact the editors responsible for this story: Brendan Case at bcase4@bloomberg.net, ;Anthony Palazzo at apalazzo@bloomberg.net, Christopher Jasper