'Plain English' Powell Cheerleads U.S. Economy After Rate Hike
Unemployment falling, inflation rising faster than projected.
(Bloomberg) -- Federal Reserve Chairman Jerome Powell signaled growing optimism on the U.S. economy while assuring investors that the central bank would not derail the expansion by aggressively tightening monetary policy.
Fed officials on Wednesday raised interest rates by a quarter point for the second time this year and upgraded their median forecast to four total increases in 2018, as unemployment falls and inflation overshoots their 2 percent target earlier than previously projected.
"The decision you see today is another sign that the economy is in great" shape, Powell told reporters following the decision. "Frankly, I do think there is a lot to like about low unemployment."
He also announced that starting in January he'd take questions from the media after every meeting, though he cautioned that "having twice as many press conferences does not signal anything." The Fed chief currently speaks to reporters after every other policy meeting.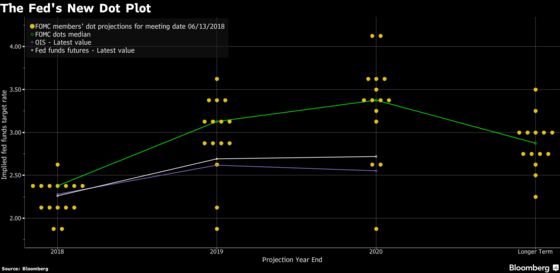 The so-called "dot plot" released with their decision showed eight Fed policy makers expected four or more quarter-point rate increases for the full year, compared with seven officials during the previous forecast round in March.
The increase in the target range of the benchmark federal funds rate to 1.75 percent to 2 percent had been widely expected, but the slightly steeper pace of rate hikes shown in the dot plot spooked some investors. The S&P 500 Index closed 0.4 percent lower in New York, while benchmark 10-year yields ended a little higher at 2.97 percent.
Powell said officials have "been very, very careful not to tighten too quickly," adding that continuing with their gradual approach to policy seems "like the right thing" to do.
In a style that contrasted with his predecessor Janet Yellen's more professorial delivery, Powell began by offering what he called a "plain-English" summary of the economy. The first non-economist to run the Fed in more than three decades stood at a podium rather than sitting at a desk like Yellen and her predecessor, Ben Bernanke, did.
The meeting and Powell's press conference kick of a busy couple of days for the world's top monetary policy makers. European Central Bank officials meet on Thursday to discuss for the first time when to end their bond-buying program although they may delay an announcement until July. The Bank of Japan is set to leave its stimulus setting unchanged on Friday.
In the U.S., Fed officials are setting policy for an economy that's being boosted by $1.5 trillion in tax cuts and a $300 billion increase in federal spending, while unemployment has fallen to levels that match the lowest since 1969. Powell said incentives in the Republican tax cut legislation could boost investment and lead to higher productivity although the timing was uncertain. In fact, the Fed didn't change its median longer-run growth estimate of 1.8 percent.
"For the first time in many years, the Fed has almost complete confidence about the outlook," said Michael Gapen, chief U.S. economist at Barclays Capital Inc. in New York. "He is someone who thinks the U.S. economy has a lot of room at the margin."
The Fed statement also underscored the committee's commitment to growth even though it was notching up the pace of rate hikes this year.
"The committee expects that further gradual increases in the target range for the federal funds rate will be consistent with sustained expansion of economic activity, strong labor market conditions, and inflation near the committee's symmetric 2 percent objective over the medium term," the statement said.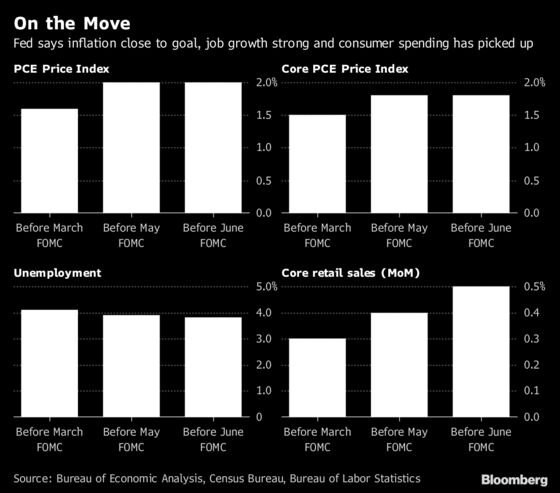 Policy makers kept their hiking path at three hikes for 2019 while trimming the 2020 outlook to one increase. By the end of next year, policy moves above their longer-run estimate of a neutral interest rate, a condition some economists would say is restrictive. Fed officials project their preferred gauge of inflation hitting 2.1 percent in the fourth quarter of this year, compared to 2019 in the March forecast.
Powell said there were no signs that trade tensions were having a big impact on growth and that the somewhat tighter policy path in 2018 shouldn't deter continued strong job creation. Fed officials forecast an unemployment rate in the fourth quarter of 3.5 percent in both 2019 and 2020.
'You have fiscal policy pushing on the gas, and downside risks from trade disputes so they are continuing their gradual approach," said Julia Coronado, president of Macropolicy Perspectives LLC in New York. "Powell seems comfortable exploring the lower reaches of the unemployment rate given few indications it is resulting in stronger inflation pressures."
--With assistance from Vince Golle.
To contact the reporter on this story: Craig Torres in Washington at ctorres3@bloomberg.net
To contact the editors responsible for this story: Brendan Murray at brmurray@bloomberg.net, Alister Bull