Lira's Rebound From a Record May Preclude Central Bank Rate Hike
Enthusiastic Lira Bulls May Preclude a Central Bank Rate Hike
(Bloomberg) -- The Turkish lira's recent rally on the prospect of a central bank rate hike may turn out to be self-defeating.
The currency has rebounded from its recent lows on speculation surging inflation will prompt the central bank to raise rates when it meets on Thursday. But the risk is that its strengthening may mean policy makers feel less compelled to backstop the lira with further tightening.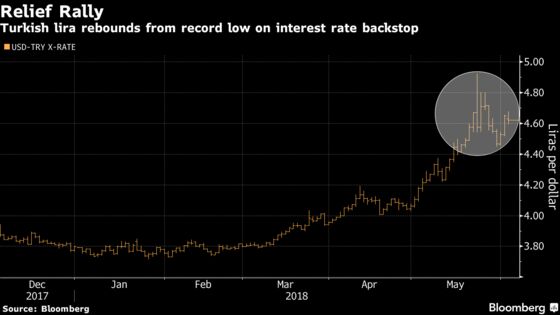 "If a critical mass of investors buy the lira on the expectation of a hike, the resulting lira rally makes the hike less likely," said Inan Demir, an economist at Nomura International Plc. in London.
Demir is penciling in a 100-basis-point interest-rate increase, but concedes that even before Monday's inflation print he didn't have a high conviction in this call. While Turkey is said to be prepared to raise interest rates again, some investors worry that assurance may have been just a general affirmation rather than a clear statement of intent, especially after last month's 300-basis point increase.
Consumer prices rose 12.15 percent from a year earlier in May, approaching a 14-year high touched in November and leading the currency to rally. The lira slipped back on Tuesday, yet is still up more than 6 percent from a record low touched last month.
The central bank will hold its one-week repo rate unchanged at 16.50 percent when it meets on Thursday, according to eight out of 14 economists in a Bloomberg survey. Six expect at least a 50-basis-point increase.
To contact the reporter on this story: Constantine Courcoulas in Istanbul at ccourcoulas1@bloomberg.net
To contact the editors responsible for this story: Ven Ram at vram1@bloomberg.net, Neil Chatterjee