New Sony CEO to Detail Shift Away From Gadgets in Mid-Term Plan
Sony Corp. is done working for peanuts in the hardware business.
(Bloomberg) -- Sony Corp. is done working for peanuts in the hardware business.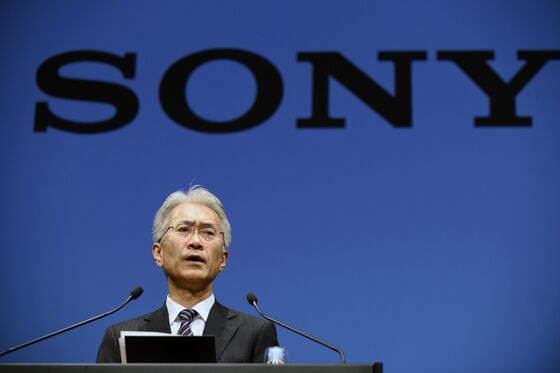 Kenichiro Yoshida, who took over as chief executive officer in April, is set to unveil a three-year plan on Tuesday that embraces Sony's growing reliance on income from gaming subscriptions and entertainment. The transition is already happening: even though the company sold fewer hardware products such as televisions, digital cameras, smartphones and PlayStation consoles in the year through March, it was able to post record operating profit.
It's a tectonic shift for a company built on manufacturing prowess. Sony popularized transistor radios, gave the world portable music with the Walkman and its TVs were considered top-of-the-line for decades. With the rise of Chinese manufacturing, making and selling gadgets has become a business with razor-thin profit margins. Investors have applauded the transformation that's been under way since Kazuo Hirai took over as CEO in 2012, with the shares climbing more than five-fold amid a turnaround.
"Yoshida is clearly sending a signal that recurring revenue from the content business, software, services, and subscription segments are important," said David Dai, an analyst at Sanford C. Bernstein & Co. in Hong Kong. "That's what is going to drive growth and also sustain growth."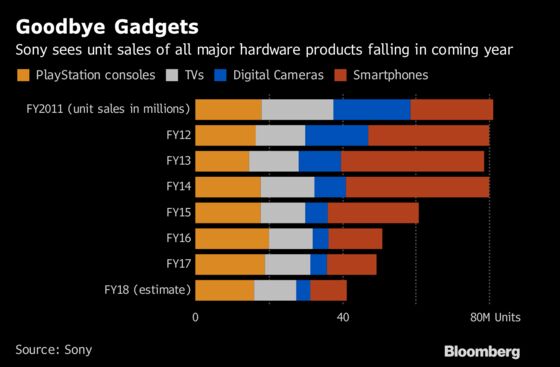 The big question is whether Yoshida, who was chief financial officer before his promotion, can make a clear and compelling case for growth in online content, recurring subscription revenues and intellectual property licensing. The PlayStation 4 gaming console is nearing the end of its lifecycle and the company's Hollywood division is notorious for swinging between blockbuster hits and big flops.
Other questions for investors include how aggressively Yoshida plans to spend Sony's growing cash pile to acquire more content, whether a merger of movies and music under a single entertainment unit is in the cards, and if game streaming will be central to the PlayStation 5.
Another key area of concern is Sony's semiconductor business, which supplies mobile-camera chips for iPhones and other mobile phones. Operating profit for that business is seen declining 39 percent in the current fiscal year, partly due to one-time charges but also amid sputtering global demand for smartphones.
"Sony is proving that it can evolve with the landscape ... with a shift from a hardware-to content-driven profit model," SMBC Nikko Securities Inc. analyst Ryosuke Katsura wrote after the company's latest earnings report last month. "The real key is whether it provides investors with a clear road map."
On Tuesday, after Yoshida kicks off Sony's investor relations day at 9:30 a.m. in Tokyo, all eight of the company's divisions will present their mid-term strategy though 2021.
Those presentations will most likely stress the resilience of Sony's content businesses. Profits from the video-game unit are up, even amid a 20 percent drop in PS4 hardware sales, thanks to recurring revenue from PlayStation's online network. Paying subscribers for the service have jumped 64 percent over the past two years to 34.2 million.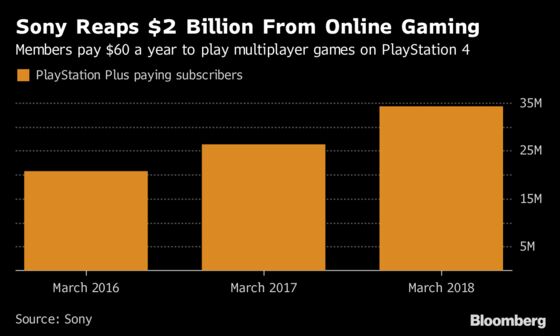 Still, the shift toward online content has been bumpy. Sony's online TV service PlayStation Vue continues to bleed money. The service lost access to ABC, CBS, Fox and NBC affiliated stations over a contractual spat this month. In late 2016, it dropped Viacom Inc. stations, leaving subscribers without Comedy Central and MTV.
Outside of games and chips, which together generated almost half of all earnings last year, Yoshida is likely to talk about the rising importance of intellectual property and patent licensing. On Monday, Sony spent $185 million to buy a 39 percent stake in Peanuts Holdings, the owner of the Snoopy brand.
As Nobuyuki Idei, the former CEO who presided over Sony's glory days as a hardware maker, warned in 1999 at the beginning of the internet era: "The hardware business is peanuts."
To contact the reporters on this story: Yuji Nakamura in Tokyo at ynakamura56@bloomberg.net;Yuki Furukawa in Tokyo at yfurukawa13@bloomberg.net
To contact the editors responsible for this story: Robert Fenner at rfenner@bloomberg.net, Reed Stevenson