'Spider-Man' Has Second-Highest Opening in Box Office History
(Bloomberg) -- Sony Group's much-anticipated "Spider-Man: No Way Home" is setting box office records.
The film had the second-highest opening day in the history of the North American box office, Sony said, trailing only Walt Disney Co.'s "Avengers: Endgame." It also had the best December opening of all time, the studio said.
Friday's ticket sales of $121.5 million came after the $50 million it brought in during Thursday's previews, Sony said, far surpassing the pandemic-era opening weekend high set almost three months ago by the studio's "Venom: Let There Be Carnage."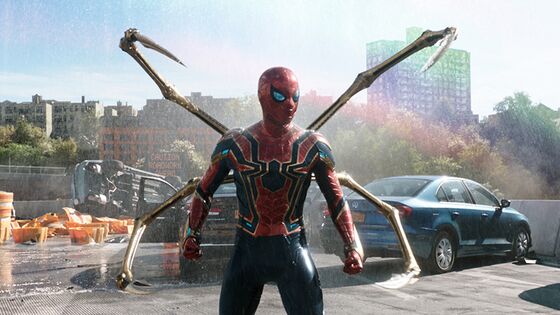 Sony is now projecting $242 million for the weekend and exceeding its earlier three-day target of $130 million.
That will also beat the total $212.4 million the studio is anticipating for "Venom" so far through this weekend.
The opening day for "No Way Home" has "massively exceeded" earlier expectations of $100 million for the weekend, said Paul Dergarabedian, a senior media analyst at market researcher Comscore Inc., "with an expected full weekend tally that astonishingly will place it among the Top 5 openers of all-time."   
"No Way Home" is providing a desperately needed jolt for cinemas that endured months of pandemic-prompted closures, followed by a bumpy recovery that's seen even strongly reviewed films flop. Theaters are expected to collect about $4 billion in ticket sales domestically this year, a fraction of the $11.4 billion generated in 2019.
"No Way Home" delivered the best opening night of all time for Cinemark Holdings Inc., the theater chain said Friday. For AMC Entertainment Holdings Inc., the biggest operator, "No Way Home" scored its biggest December opening night ever, with 1.1 million admissions, and second highest of all time.
Boxoffice Pro forecasts a North American opening weekend of $224 million for "No Way Home." 
AMC, a meme stock that's seen big swings this year, rose 19% on Friday to $29.12. Cinemark, meanwhile, was up 0.3% to $16.21.