Yield on 30-Year Treasuries Tumbles as Curve Continues to Flatten
Yield on 30-Year Treasuries Tumbles as Curve Continues to Flatten
(Bloomberg) -- This week's aggressive repricing in U.S. Treasuries is going global, with long-end borrowing costs from Germany to the U.K. sliding as traders brace for central banks to quell fears over rising inflation.
The yield premium on 30-year German bonds over five-year equivalents narrowed to the lowest since March on Friday, while a similar gauge in Britain fell to levels last seen in January. It follows a plunge in long-term Treasury yields on Thursday, which sparked the biggest two-day flattening of curve since March 2020.
The moves come after Federal Reserve officials on Wednesday signaled they could tighten monetary policy sooner than expected, boosting the appeal of longer-dated debt, which has borne the brunt of this year's bond selloff on fears that inflation might become unmoored.
While most major central banks are further behind in telegraphing an eventual end to stimulus unleashed during the pandemic, fierce shifts in the world's biggest debt market tend to ripple globally.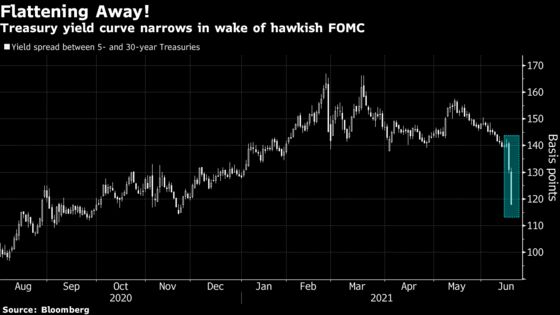 "This is all consistent with markets seeing the Fed having provided cover for other central banks to tighten earlier," said Antoine Bouvet, head of European rates strategy at ING Groep NV. "We're still on track for the first hike by the Bank of England in early 2023 I'd say. The Fed's tone has probably reinforced the market's conviction there."
The 30-year German yield fell two basis points Friday, dropping for a third day to 0.27%. taking the spread over the five-year note to as low as 86 basis points. The yield on equivalent U.K. securities slumped three basis points, the most in over a week, bringing the spread over five-year gilts to 84 basis points.
That fed through into the region's equity markets, with the Stoxx 600 Banks Index trading 1.1% lower, while the insurers index declined 1%.
The plunge in U.S. long-end yields comes after new forecasts released Wednesday by central bank officials indicated two rate hikes by the end of 2023, a shift that's driven up market rates in shorter maturities and put a check on longer-term inflation expectations.
"Fed credibility as an inflation fighter looks to have green-lighted those worried about buying long duration as an investment to potentially counter-balance other more riskier positions in their portfolios," said George Goncalves, head of U.S. macro strategy at MUFG Securities Americas.
The sudden flattening of the yield curve also appears to stem from some traders being caught offside after previously positioning for steepening, according to Tom di Galoma, managing director of government trading and strategy at Seaport Global.
Some Wall Street strategists have bailed on prior recommendations to wager on curve steepening.
Following the Fed's hawkish message at the June policy meeting, reflation trades suffered a "significant setback," wrote Priya Misra at TD Securities in a note with her colleagues. They recommend exiting 5-year versus 30-year steepeners. Morgan Stanley strategists also exited the same trade, though continue to advocate shorting 10-year breakeven rates.
In contrast, strategists at HSBC Holdings Plc recommended closing long positions in 30-year Treasuries after the trade hit the bank's target. Instead, investors should buy five-year securities, which have seen yields spike higher.
"They are basically saying 'we are watching inflation more carefully than you may have thought,"' John Wraith, head of U.K. and European rates strategy at UBS told Bloomberg TV, referring to the Fed's decision. "The market has digested the new information quite quickly, so obviously it depends on how growth and inflation evolve from here. If it moves in line with the Fed's expectations, I think the market now is pretty well priced."
Money-market traders have now pulled forward to the final quarter of 2022 their pricing for when the Fed is likely to implement its first quarter-point policy rate increase.
The surprisingly hawkish Fed shift Wednesday induced economists at Barclays to predict that the central bank will formally announce a scaling back of its asset-buying program -- a precursor to actual rate hikes -- at the Fed's September gathering, with an actual paring of bond purchases to start in November.
Barclays had previously predicted a November announcement and a January start date for a change to the bond-buying program, which currently takes in around $120 billion of securities a month.
The net results of the Fed's actions Wednesday should "be sufficient to tilt the bias of intermediate versus longer-term yield curves toward flattening on better-than-expected data," Praveen Korapaty, chief rates strategist at Goldman Sachs Group Inc., wrote in note with his colleagues.