Wallenberg Family's Investor AB Prepares for Global Downturn
Wallenberg Family's Investor AB Prepares for Global Downturn
(Bloomberg) -- The Swedish Wallenberg family's holding company Investor AB, which owns stakes in about a fifth of the companies listed on the country's benchmark large-cap index, is preparing for a potential weakening of the global economy.
The Stockholm-based company is making sure the holdings in its 372 billion-krona ($42 billion) portfolio, which includes wireless-network equipment maker Ericsson AB and appliances manufacturer Electrolux AB, are agile and flexible enough to handle a changed outlook after leading indicators started pointing to a softer demand environment. The company recently also sold a 500 million-euro ($577 million) 12-year bond to increase its financial headroom.
"There are a number of things that we need to watch," Chief Executive Officer Johan Forssell said in an interview after reporting third-quarter results on Wednesday. "But I don't have a crystal ball. For us the most important part is that we're prepared, and that's why we issued a big bond and why we work closely with our companies to make sure we're flexible and can adapt to different environments as good as we can."
According to the CEO, some of the leading economic indicators in China, Europe and globally have recently weakened. There is also softer demand on the automotive side, as well as risks stemming from Brexit, Italy and the currency devaluations in Argentina and Turkey. And last but not least: the looming threat of a full-blown global trade war.
"With the combination of these risks, it's of course necessary to be prepared," Forssell said, adding that the risk of trade wars constitutes one of the biggest fears. That's because "having an open market with free trade creates efficiency and is better for the global economy," the CEO said.
For a small and open economy like Sweden, where half of economic output is made up of exports, the stakes are high. The country is home to global companies such as vehicle makers Volvo AB and Volvo Cars, furniture giant Ikea and clothing retailer Hennes & Mauritz AB and is a major exporter of cars and trucks, machinery, paper and pulp products, iron and steel, technological equipment and medical and pharmaceutical products.
Investor AB holds stakes in 12 listed companies, which apart from Ericsson and Electrolux include Atlas Copco AB, Husqvarna AB, Swiss-Swedish engineering giant ABB Ltd. and U.K.-Swedish drugmaker AstraZeneca Plc. It also has a raft of unlisted holdings and private-equity investments through EQT.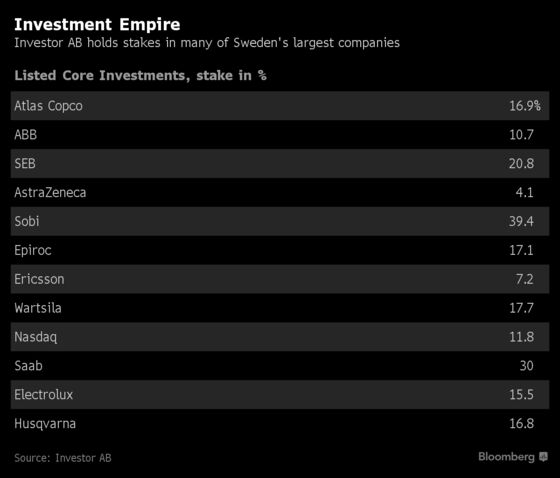 But threats are not just found outside the Nordic region -- there are also concerns closer to home. After Sweden's September election provided an inconclusive result, with neither of the traditional blocs securing a majority due to a surge in support for the nationalist Sweden Democrats, it's been in political gridlock.
For Forssell, who wants to see a strong government that is able to take structural initiatives and create a favorable business environment, that development poses a risk.
"I think the more it drags on, the more it creates uncertainty," Forssell said. "And it also creates a situation where important decisions that might need to be taken are postponed, and of course, that is not good."
To contact the reporter on this story: Hanna Hoikkala in Stockholm at hhoikkala@bloomberg.net
To contact the editors responsible for this story: Celeste Perri at cperri@bloomberg.net, Niklas Magnusson, Kati Pohjanpalo