VIX Action During Omicron Slump Seen as Positive Sign for Stocks
Volatility markets are suggesting stocks may see only a limited impact from the omicron variant, and then bounce back over the coming month.
The Cboe volatility index, or VIX, which tracks fluctuations in the S&P 500 Index, topped out at 28.99 on Friday, failing for a third time since May to break above the 29 level. The gauge then pulled back to as low as 21.71 on Monday.
The VIX's close on Friday above a similar gauge of volatility in the Nasdaq 100 Stock Index-- the VXN -- may also be a sign that the stock selloff is close to bottoming out, and one that has been followed by gains in the S&P 500 after one month on 75% of previous occurrences, according to Susquehanna International Group derivatives strategist Chris Murphy.
"The behavior of the VIX today was quite constructive," Tom Lee, co-founder of Fundstrat Global Advisors in New York, wrote in a research note on Monday, citing the initial decline and the steepening in the term structure as factors that looked positive. The odds that Monday morning's low in stock futures is "THE low" have increased sharply, he said.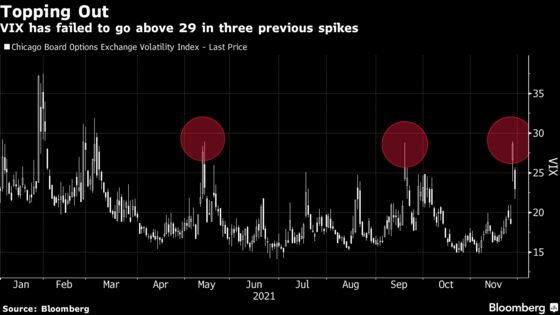 The VIX, which is known as Wall Street's fear gauge, has spent much of 2021 in the 15-to-20 range, compared with its lifetime average around 19.5, as markets have calmed down from last year's pandemic-induced turmoil. Spikes early in the first quarter took the index above 30 several times, but since then it hasn't broken past 29 on an intraday basis.
The rise of omicron brings at least one possible positive for equities. The outbreak of the variant may convince the Federal Reserve to delay its planned interest-rate increases until there is greater certainty about the course of the pandemic.
The VIX's decline Monday and lack of increases much further out on the futures curve suggests to Goldman Sachs Group Inc. strategists including Christian Mueller-Glissmann and Cecilia Mariotti that markets are not extrapolating current volatility very far into the future.
"To hedge correction risk in the near term, we like put spreads or payer spreads in credit –- credit volatility appears attractive versus equity, especially as credit has become more volatile," the Goldman strategists wrote in a note Monday.
Markets are still far from getting an all clear though -- as shown the Tuesday's renewed risk selloff following comments from Moderna Inc. chief executive that existing vaccines may not work against the omicron variant.
While the VIX fell, "it is still above 20 and elevated and this is a fickle market -- I don't trust it one bit," according to Chris Weston, head of research with Pepperstone Financial Pty in Melbourne. Investors may want to cautiously buy into the "move in risk" while staying nimble in case the market turns, he wrote in a note.