Vale Lowers Production Guidance in Boost to Iron-Ore Rebound
(Bloomberg) -- Vale SA just gave some much needed supply-side support to a nascent recovery in iron ore prices, trimming its production guidance for this year and issuing a lower-than-expected projection for next year.
The world's second-largest producer of the steelmaking ingredient now expects to produce 315-320 million metric tons this year, compared with previous guidance of 315-335 million tons. Next year, Vale anticipates 320-335 million tons compared with a 346 million-ton consensus among analysts.
Vale is defending margins by withholding some lower-quality supply and seeking $1 billion in cost savings after iron ore futures tumbled in recent months as China limited steel output to contain pollution and power use. 
"Value over volume is our mantra," Marcello Spinelli, head of iron ore, said Monday at the Brazilian mining giant's annual investor day at the New York Stock Exchange. "We are not going to produce if the market doesn't need it."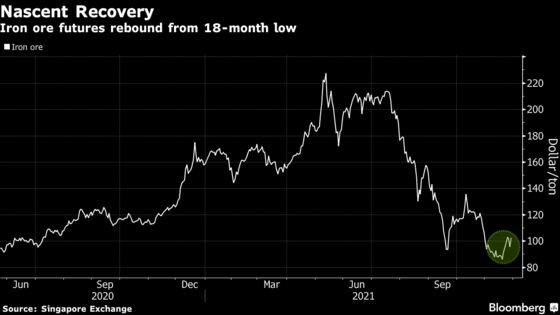 The Rio de Janeiro-based company's ongoing recovery from an early-2019 tailings dam collapse makes it a major swing factor on the supply side. The latest guidance may support a recent rebound in iron ore futures amid optimism over restocking by Chinese mills.
Still, Vale continues to target annual production capacity of 400 million tons, which could make it the world's No. 1 iron ore producer once again, a title it lost to Rio Tinto Group in the wake of the Brumadinho dam disaster. In September, Vale postponed the capacity goal from 2022 to "medium term" partly because of sluggish permitting.
Also a major nickel supplier, Vale expects to produce between 175,000 tons to 190,000 tons of the metal used in rechargeable batteries and stainless steel for the period 2022-2023. It projects 330,000-355,000 tons of copper output for 2022.
In Monday's presentation, Vale also outlined a capital expenditure budget for 2022 of $5.8 billion compared with $5.4 billion this year. The company expects to spend an average of $5 billion to $6 billion in the following years.
Vale continues to divest non-core assets such as a $1.3 billion stake in fertilizer producer Mosaic Co. as well as coal, bauxite and steel operations as it sharpens its focus on iron ore, nickel and copper.
Even with prices of its core product well down in recent months, the company continues to generate plenty of cash to reward investors via record dividends and share buybacks.
In other guidance, the company said its 2023 earnings before items could range from $16.5 billion to $24 billion.