U.S. Corn Stocks Dwindle in Latest Jolt to Inflation Fears
(Bloomberg) -- Corn stockpiles in the U.S., the world's biggest shipper, keep on shrinking at a time when agricultural markets are steeped in worries over strained supplies and food inflation.
The weather's too dry for crops to thrive. Americans are embarking on summer travels, which burns up corn-based fuel that's mixed into gasoline. China is scouring the world market for grains to feed its expanding hog herd.
That's pulling corn supplies to their tightest since 2013, according to the Agriculture Department's monthly report on global agricultural supply and demand released Thursday.
Prices for the grain have already touched eight-year highs recently. As it's mainly used to feed livestock raised for meat, expensive corn eventually adds to pressure on shoppers already grappling with larger grocery bills.
Inflation is "going to be building definitely over the medium-term," said Terry Reilly, senior commodity analyst at Futures International LLC. Rising commodity costs "are basically going to lift prices at the retail level across the board."
Rising food prices have gripped the globe, rallying to their highest in almost a decade, according to a United Nations gauge. Prices paid by U.S. consumers in May saw their biggest annual rise since 2008, around 5%, according to Labor Department data released Thursday.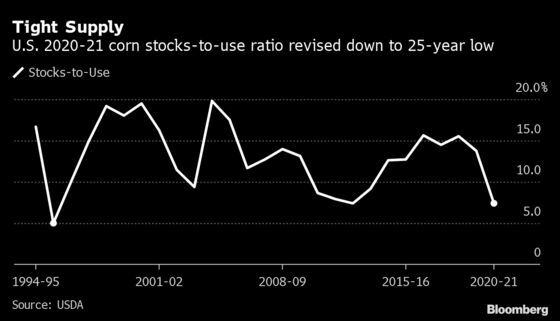 Corn futures rose as much as 3% following the report to $6.2825 a bushel.
Whether crop prices rally or retreat is largely dependent on weather this year. Dryness is plaguing some of the globe's biggest producers, and with the tight supplies, it's putting daily weather forecasts in the spotlight. Traders and investors are obsessing over rain showers and dry spells even in second-tier growers, such as North Dakota.
This year's weather patterns are especially tricky because while some areas are suffering from parched farmland, too much rain in other regions is also a problem for some farmers, adding to market volatility.
"As drought conditions persist in the U.S. Upper Midwest and farmers battle slow emergence rates, corn futures will likely give soybeans a strong run their money in the coming weeks," said Jacquie Holland, an analyst at Farm Futures.
There is a rare bright spot in the U.S. report. The world is set to produce the most wheat ever, and global stockpiles of the staple are projected to rise.
Plentiful rains across Europe and the Black Sea region are boosting prospects for the approaching wheat harvests. Wheat is the first major grain crop collected across the Northern Hemisphere, and ample supplies in the key shippers could also help quell some of the supply concerns.
The U.S. monthly pegs the Russian crop at an all-time high of 86 million tons and boosted EU supplies by 3.5 million tons from its May report. The U.S. forecast was also raised.
Still, the markets remain on edge about corn and soybean supplies.
"If we get a short crop in the United States this year, which is a distinct possibility, we can totally blow up the global corn and soybean balance sheet," said Arlan Suderman, chief commodities economist at StoneX. "It is a very big concern."