U.S., China Impose New Tariffs on Each Other as Talks Resume
The revival of trade negotiations between the U.S. and China after a months-long standstill has provoked new hopes.
(Bloomberg) -- The U.S. and China imposed fresh tariffs on each other's goods in the middle of trade talks aimed at averting the worsening conflict between the world's two biggest economies.
Both nations started levying the previously announced taxes on $16 billion of imports from the other country shortly after noon Beijing time. China also said it would lodge a complaint about the new American tariffs to the World Trade Organization, according to a Chinese Ministry of Commerce statement on its website.
The U.S. will collect an additional 25 percent in duties on Chinese imports ranging from motorcycles to steam turbines and railway cars, and the Chinese retaliation will see a similarly sized tax on items including coal, medical instruments, waste products, cars and buses.
U.S. Treasury Undersecretary for International Affairs David Malpass and Chinese Vice Commerce Minister Wang Shouwen met Wednesday and will meet again on Thursday for the first face-to-face trade discussions since June. Those talks aren't expected to draw in senior decision-makers and are predicted only to result in a joint statement of productive discussions, according to a person familiar with the agenda.
"US trade tensions with China are more likely to worsen this year, weighing on global growth in 2019," according to a research report from analysts at Moody's Investors Service. "Most of the impact of the trade restrictions on economic growth will be felt in 2019," and any additional tariffs would be a "material downside scenario," they wrote.
President Donald Trump himself has played down expectations in recent days. That, analysts say, is partly because Trump and China hawks in his administration are feeling increasingly emboldened since the two sides held talks in May and June.
At home, Trump has watched the subdued reaction of financial markets to his trade maneuvers and hailed recent strong economic news and polls showing his approval rating holding up among Republicans. Meanwhile, in China the economy has shown signs of weakness in recent months -- a circumstance Trump has said gives the U.S. an advantage.
"Here we are three months later and if anything during that time the hawk's position has been consolidated because we drove over the cliff and discovered our car can fly with the U.S. economy still doing fairly well and President Trump still popular among Republicans," said Scott Kennedy, an expert on U.S.-China relations at the Center for Strategic and International Studies in Washington.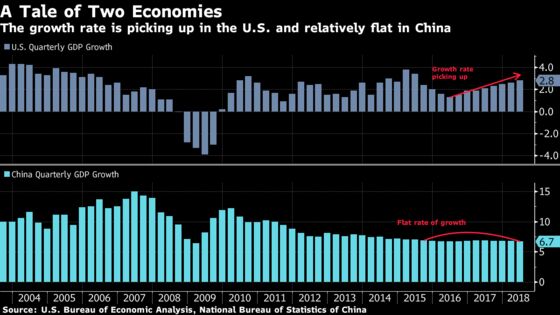 The Chinese state-run tabloid Global Times said in an editorial late Wednesday that the Chinese delegation shouldn't feel too much pressure over the outcome of talks. "To be honest, the Chinese society has no expectation that China and the U.S. can quickly reach a deal to end the trade war," it said, adding that China was ready to endure the fallout from protracted trade tensions.
The meetings this week in Washington appear set to highlight the continuing divide inside the Trump administration over how best to deal with Beijing and how China hawks are winning that battle. While Treasury Secretary Steven Mnuchin is eager to find a negotiated solution, other cabinet members such as U.S. Trade Representative Robert Lighthizer are keen to continue increasing the pressure on Beijing, analysts say.
Divided Cabinet
The Treasury Department didn't respond to an emailed request for comment.
Trump recently revived a point of friction by accusing Beijing of manipulating its currency to offset the impact of his tariffs. In response, the Chinese delegation could this week offer a private pledge not to let the currency weaken further as long as negotiations continue, said Derek Scissors, a China expert at the American Enterprise Institute in Washington. Such a commitment might lead to further discussions.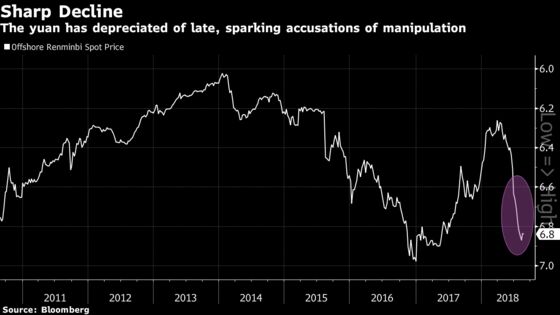 U.S. Treasury officials have been working on a revised list of American demands in the lead-up to this week's meetings, according to people familiar with the U.S. preparations. That effort, however, has been resisted by other parts of the Trump administration and it is unclear whether they will be ready to be presented to the visiting Chinese delegation.
The initial list of U.S. demands presented to China in May included a call for a $200 billion reduction in America's annual goods trade deficit with China by 2020 -- which stood at about $375 billion last year -- and an end to industrial policies that the U.S. claims violates global trading rules.
U.S., China Draw Rhetorical Battle Lines for Prolonged Trade War
This week's talks are also taking place as hundreds of executives and officials from U.S. companies, trade groups and other entities have descended on Washington to weigh in on the administration's planned tariffs on the additional $200 billion in Chinese imports. Most have been asking for goods to be removed from the list of products.
The administration has said it wants to avoid consumer products and target industries critical to China's economic future. Yet companies including Fitbit Inc. and iRobot Corp. are complaining that their bicycles, handbags, sports equipment and a swath of additional products across multiple industries are being unfairly targeted.
"We question the logic that short-term pain will lead to long-term benefits," Naomi Wilson, director of global policy, China & Greater Asia for the Information Technology Industry Council, testified Tuesday. The group represents companies including Amazon Inc., Apple Inc. and Facebook Inc.
--With assistance from Jeffrey Black and Joe Deaux.
To contact Bloomberg News staff for this story: Shawn Donnan in New York at sdonnan@bloomberg.net;Jennifer Jacobs in Washington at jjacobs68@bloomberg.net;Mark Niquette in Columbus at mniquette@bloomberg.net;Miao Han in Beijing at mhan22@bloomberg.net
To contact the editors responsible for this story: Brendan Murray at brmurray@bloomberg.net, James Mayger, Karthikeyan Sundaram
©2018 Bloomberg L.P.
With assistance from Editorial Board