Trudeau Gives Aid to Energy Workers, Hints at Liquidity Help
Trudeau Offers Aid to Energy Workers While Skirting Full Bailout
(Bloomberg) -- Prime Minister Justin Trudeau announced a C$2.45 billion ($1.75 billion) aid package for workers in Canada's energy sector and new liquidity injections for stressed companies that should buttress an industry hammered by plunging oil prices.
The government will provide C$1.7 billion to help clean up abandoned oil and gas wells and spend C$750 million on an emissions-reduction fund, initiatives that will help maintain 10,000 jobs across the country, Trudeau said Friday at a press conference in Ottawa.
In addition, Canada's business development bank said it will make "higher risk financing" available to oil and gas companies, consisting of commercial loans between C$15 million and C$60 million each, intended to fund operational cash flow needs for 12 months.
Due to its relative isolation and a lack of export capacity, Canada's oil patch is experiencing the full weight of the global crude price collapse. Heavyweights such as Suncor Energy Inc. and Cenovus Energy Inc. have been forced to cut production while others including Athabasca Oil Corp. suspended some operations entirely.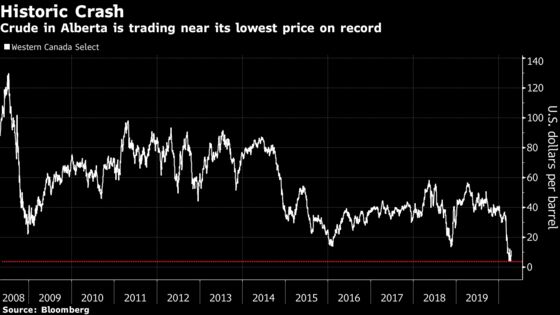 While the abandoned-wells project should provide jobs for laid-off field workers, some insiders say the industry needs C$20 billion to C$30 billion to survive the double blow of pandemic and supply glut. Canadian oil companies shut out of credit markets are now pinning their hopes on a liquidity injection from the government lending agencies.
"More support is needed to deal with the crisis in Canada's energy sector, but this is a great first step," Alberta Premier Jason Kenney, a conservative often at odds with Trudeau, said in a statement. "Our energy sector is facing its biggest challenge ever, and we need to be sure that industry can access the capital it needs to survive and thrive in future years."
The orphan-well funding will be effective in sustaining some of the oilfield-services sector during the downturn, said Tim McMillan, chief executive officer at the Canadian Association of Petroleum Producers.
Possible assistance from the export credit agency and business development bank, which were used to bail out the auto and industrial sectors during the 2008 financial crisis, is also encouraging but more details are needed, McMillan said in an interview. "We just need to continue to work to make sure that it is an effective program of the right size."
While the government hasn't yet announced details about the agency funding, Morneau said the response will be "demand driven."
"We know for firms in the energy sector, they are going to need access to this credit," he said. "We are not putting a limitation. It's on a commercial basis but it's going to allow them to get through this challenge."
The measures highlight one of Trudeau's major political struggles: He must help an industry that accounts for almost 10% of Canada's economy and a fifth of its exports but that is also wildly unpopular with his environmentalist base.
Groups like Greenpeace have pressed Trudeau's government not to bail out the sector. Instead, they say the pandemic and low oil prices present an opportunity to wean Canada off its reliance on fossil fuels and reduce the country's carbon footprint through a carbon tax and legally binding emissions targets.
Financial aid is also contentious because of the relatively high incomes. Average weekly earnings in the oil and gas sector were C$2,740 last year, making it the best paying in the country and almost three times the national average of C$1,029. The federal government already announced a 75% wage subsidy for businesses that have suffered revenue declines.
But a failure to help would stoke anger in Western Canada, home to the world's third-largest oil reserves. Kenney has called for a massive liquidity package to help a sector whose workers account for a sizable voter base for conservative parties at both the provincial and federal level.