Trading in Sri Lanka Stocks Halted Second Day as Rout Deepens
(Bloomberg) -- Trading in Sri Lanka stocks was suspended for a second day with investors getting just five minutes of transactions between halts, as the market continued to slide amid an economic crisis.
The Colombo All-Share Index plunged 8.1%, extending a 7.6% decline in Monday's session that lasted barely 32 minutes. Tuesday's suspension came as the bluechip S&P Sri Lanka 20 Index sank 10%, the same magnitude as the previous session.
Stocks in Sri Lanka, the second best performers globally in 2021 with a 80% rally, have lost nearly half of their value since the start of February. The island nation, heavily dependent on imports, has struggled with shortages of food, fuel and medicines amid an erosion of its currency as the government expedites attempts to seek loans from international lenders.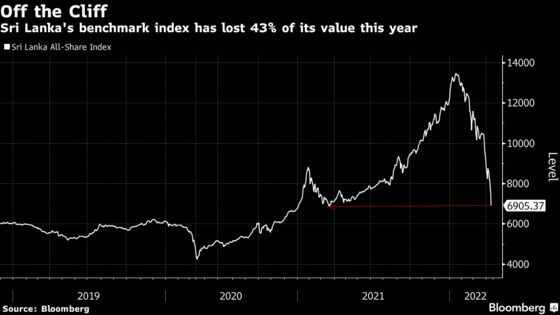 On Monday, Sri Lanka's President Gotabaya Rajapaksa and the cabinet endorsed plans to reduce his sweeping powers, a move that came as opposition parties gain popular support for their push to oust his family over mismanagement of the economy. 
The political developments also come as Sri Lanka races to secure funding from creditors including India, China and the International Monetary Fund. 
Earlier on Tuesday, the IMF doubled down on its calls for Sri Lanka to tighten monetary policy to tackle inflation. The agency also asked the government to raise revenue to help consolidate its finances, and pursue a flexible exchange rate as part of broader fiscal and debt management changes required to unlock aid financing.
Despite the stock rout, foreign funds have bought about $6.2 million of Sri Lankan stocks since start of March after net withdrawals of about $15.5 million in the prior two months.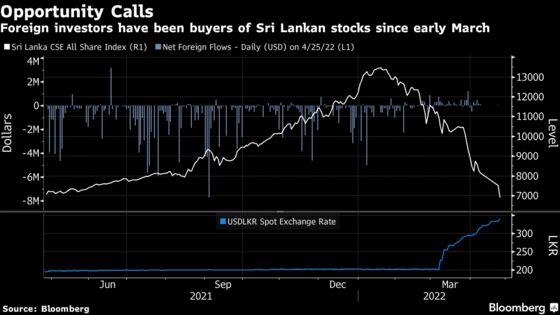 "We are in a very interesting period for investors, who have a long-term view to begin looking at Sri Lanka to put some money in," emerging market investor Mark Mobius said in an interview in Colombo on April 25.
Mobius, who set up Mobius Capital Partners after more than three decades at Franklin Templeton Investments, sees investment opportunities in Sri Lanka equities as well as sovereign bonds. 
The prospect of a currency board with a fixed exchange rate could be a solution to the nation's foreign exchange crisis and would give "immediate confidence" to investors, Mobius added. 
"We are very positive on companies that receive revenue in dollars," said Navin Ratnayake, a head of research at Colombo-based John Keells Stock Brokers Pvt. Valuations of companies such as apparel makers and real estate firms are attractive and these stocks can do well, Ratnayake added.