Traders Bracing for Turkey Rate Cut Bet on More Lira Weakness
Traders Bracing for Turkey Rate Cut Bet on More Lira Weakness
The Turkish lira is looking vulnerable as speculation grows that policy makers will cut interest rates again despite the deteriorating inflation outlook.
Option traders see a more than 60% chance that the currency will weaken to an all-time-low of 9.50 per U.S. dollar over the next month, according to Bloomberg pricing. That's the next key psychological threshold for a market trading largely in uncharted territory ahead of Thursday's decision.
The central bank will cut its key rate by 100 basis points to 17%, according to the median estimate in Bloomberg survey of economists, a move that would erode the appeal of the currency's yield and leave it exposed to shifts in fragile global risk sentiment. 
That's on top of a reduction in September that compounded a more than 6% slide in the currency, the sharpest among emerging-markets peers, to a record 9.3747 per dollar this week.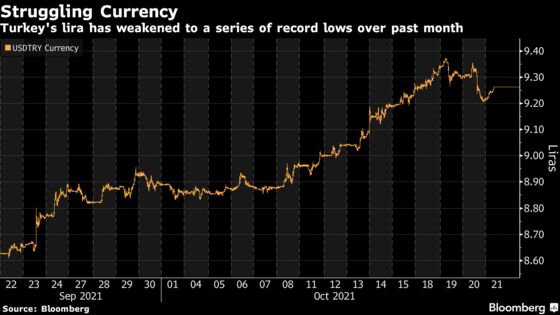 "We think the lira will continue to weaken," said Paul Greer, a London-based money manager at Fidelity International, who expects the central bank to reduce the one-week repo rate by 50 basis points. "There is limited anchor for the Turkish currency in this backdrop."
He is underweight Turkish assets, citing the "current mix of awkward domestic policy decisions and tricky exogenous" factors including the recent strength of the U.S. dollar, rising U.S. yields, and a pick-up in inflationary pressures across the world as energy prices soar.
The outlook for the currency darkened further last week, after President Recep Tayyip Erdogan fired three senior policy makers who disagreed with his calls to continue cutting rates, a move that allows him to exert greater influence on the bank's policy-making panel. 
His growth-at-all-costs approach to economic policy has compounded the lira's depreciation over the past decade, which is now on track for a ninth straight year of losses.
Erdogan's latest push for lower borrowing costs comes as inflation accelerated to just shy of 20% in September -- four times the official target and 100 basis above the bank's one-week repo rate. Another reduction of that size would push Turkey's policy rate adjusted for inflation to the lowest level since August 2020.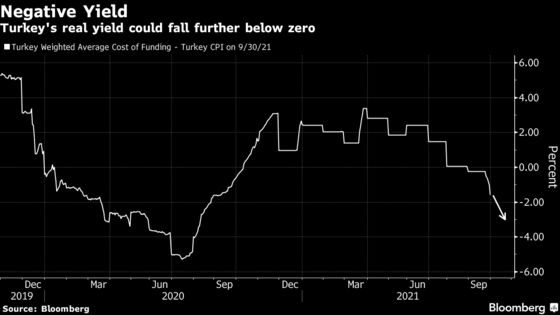 Phoenix Kalen, a strategist at Societe Generale, is forecasting with a "high degree of uncertainty" that the central bank will cut rates by 100 basis points on Thursday. She sees the lira weakening to 9.80 per dollar by year-end and 11.60 by the third quarter of 2022, given that the bank will refuse to raise rates thereafter, she said.
The lira weakened as much as 0.6% to 9.2735 per dollar as of 10:10 a.m. in Istanbul on Thursday.
TURKEY PREVIEW: Central Bank to Ease Rates Even as Lira Sinks
It's a challenging backdrop that comes on top of a string of slow-burning risks that have weighed on nation's assets over the past month. The possibility of a new military offensive into neighboring Syria could mean renewed tensions with the U.S. 
Meanwhile, Turkey is still at odds with EU member states Greece and Cyprus over energy rights in the eastern Mediterranean, raising the prospect of sanctions.
In a sign of investor unease, five year credit default swaps -- which measure the cost on insuring Turkey's sovereign debt against a default -- are trading near a six-month high. The yield on 10-year government bonds touched 20% this week, nearing levels last seen in 2019.
The anxiety is also spilling over into the stock market, with bearish bets on an exchange-traded fund that tracks Turkish equities rising to 17.6% on Tuesday, the highest since Aug. 16.
Short interest as a percentage of shares outstanding in the New York-traded iShares MSCI Turkey ETF jumped to more than a two-month high on Tuesday, IHS Markit Ltd. data showed.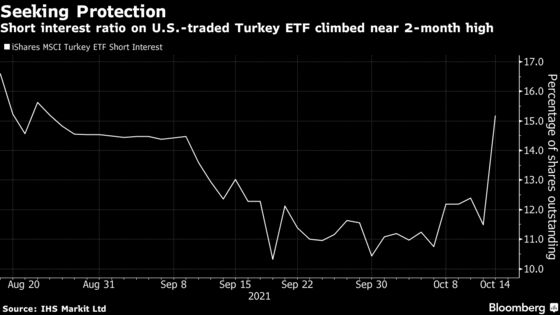 A gauge of Turkey's listed banks -- which are highly sensitive to the outlook for inflation -- lost around 2% since the central bank reduced interest rates in September, dragging price-to-estimated earnings multiples to a near record low of 2.48 times. 
Yet even those valuations are not enough to tempt some investors. Bank Julius Baer's emerging-market equity strategist Leonardo Pellandini says another rate cut risks weighing on the lira while fueling inflation. 
"We do not consider it to be a buying opportunity unless we have a change in macroeconomic policy setting," Pellandini said.