Trade Deal or Not, Few in Asia Worry About Dec. 15 for Stocks
(Bloomberg) -- Now that the Federal Reserve's rate decision is out of the way, the focus is turning back to the trade talks and the threatened U.S. tariff increase on Chinese goods set for Sunday.
And when it comes to Asia's stock investors, the glass is looking more than half full for a potential trade deal. Fund managers are staying invested, and only few of them have hedged to protect against potential losses before another set of U.S. tariffs on some $160 billion of Chinese imports is scheduled to kick in. Easy monetary policies and a potential rebound in economic growth are what's giving them confidence.
While the Trump Administration hasn't sent a clear signal that it's willing to delay the additional levies, people familiar with the discussions have said that Chinese officials expect it will.
"Equity markets seem to believe there is at least a mini deal in the making," said Olivier D'Assier, head of applied research for Asia Pacific at Qontigo GmbH in Singapore. Investors are confident their downside is protected as central banks remain accommodative and a trade deal can have a positive impact on company earnings, he added.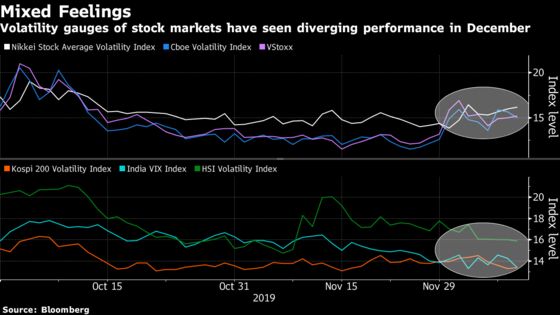 Here is what investors and strategists are saying:
Shinkin Asset, Naoki Fujiwara
"Even if tariffs are delayed, debate will continue," the chief fund manager said. "And if it looks like it will negatively impact the economy, then we can expect to see rate cuts -- so ultimately, shares will be supported." On the other hand, "if tariffs are levied and shares fall immediately, it will become an opportunity for some to buy on weakness. There is no need to hedge."
For Fujiwara, the Dec. 15 date will only be material for short-term volatility and the main scenario remains that the implementation of new tariffs will get pushed back and a partial deal will be reached, which might stoke more gains in equities.
Investors have been optimistic about a potential trade deal since October and have raised their stock exposure -- Baring Asset has kept a "relatively large" equity allocation since September, the head of Greater China investments said.
The asset manager is paying more attention to the easy central-bank policies and improving factory surveys than the trade talks, he added.
Atlantis Investment, Yang Yan
"Even if the U.S. and China couldn't reach an agreement this December, we see a high probability that the phase-one deal will be signed in first quarter next year," the fund manager said. "Some of our funds with most of their money invested may consider shorting Hang Sang Index futures and longing gold to hedge potential short-term volatility. But it won't affect our investment strategy for the next year."
Sumitomo Mitsui Trust, Ayako Sera
"We're all approaching this half in anticipation, and half in fear," the strategist said. "Things could go either way. Normally you'd think that they will decide not to, because a tariff hike won't be good for Trump either, but... It's just really hard to read what's going to happen."
Tsao Family Office, Bryan Goh
There is "no reason to sell" stocks, unless the Fed turns hawkish, according to the chief investment officer. "Equities are unlikely to be driven by the trade deal but by interest-rate policy," he said.
The fund manager said a trade deal is unlikely to "yield a lasting or meaningful resolution beyond token and cosmetic gestures."
"Our decision of investing in companies that don't need to rely on macro-economic growth already hedges our downside risk," said the fund manager at FSSA Investment Managers, which is part of First State. Li prefers shares of domestic-focused companies.
She added that there is a chance for cyclical stocks to do well if the U.S. and China reach a phase-one deal, though the reaction would be be short-lived due to the lack of fundamental support.
Pictet Asset, Hiroshi Matsumoto
"We are not actively playing over the US-China trade issues -- it's highly uncertain -- but aware of the risk of a deal break," the head of global asset investment said, adding he's using options rather than cash equities to limit any losses.
Pictet Asset Management is neutral on equities on the premise that the rebound in the global economy is still fragile.
Most of CMC's global clients are "heavily shorting" the S&P 500 Index -- 87% of the firm's top client positions -- and the yuan, the strategist said. Some market participants are just staying away from the markets before the deadline, she added.
"It is clear, given where global equities are, that markets still believe we will see some sort of interim trade deal happen or, at worst, the tariff date get rolled back," the senior market strategist said. "The potential for an ugly pullback on risk assets is therefore very high if the politicians disappoint."
Bank of Singapore, Eli Lee
"It's a nail-biting call, but we think it is more likely than not that the Dec. 15 tariffs will be postponed," the head of investment strategy said, adding that it's best to have "moderate overweight" positions. Lee said he prefers European equities over those in the U.S. and Asia, citing valuations and the fundamental outlook.
--With assistance from Min Jeong Lee and Shoko Oda.
To contact the reporters on this story: Abhishek Vishnoi in Singapore at avishnoi4@bloomberg.net;Ishika Mookerjee in Singapore at imookerjee@bloomberg.net;Moxy Ying in Hong Kong at yying13@bloomberg.net
To contact the editors responsible for this story: Lianting Tu at ltu4@bloomberg.net, Cecile Vannucci