Lithium Giant Clears Hurdle in $4.1 Billion SQM Stake Buyout
Tianqi Clears Legal Hurdle in $4.1 Billion SQM Stake Purchase
(Bloomberg) -- China's Tianqi Lithium Corp. cleared a major hurdle in its bid to buy a $4.1 billion stake in SQM, the world's second-largest producer of the mineral used in electric-vehicle batteries.
On Thursday, Chile's constitutional court declared inadmissible a suit questioning whether an agreement between Tianqi and Chile's antitrust agency FNE went far enough to protect SQM's trade secrets against its Chinese competitor.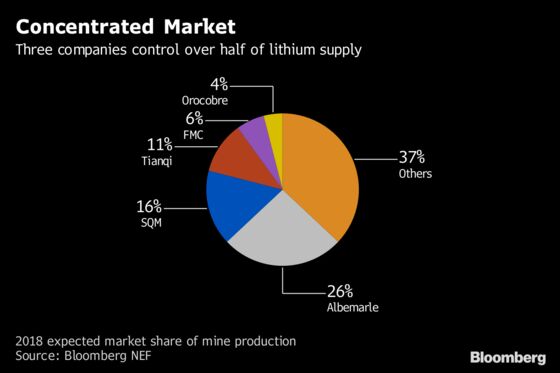 Tianqi has agreed to buy a 24 percent shareholding in SQM from Nutrien Ltd. by Dec. 13 and a decision by the Chilean court to look into the deal could have delayed the sale process beyond that deadline. Nutrien is selling the stake to comply with antitrust requirements set by India and China for a prior merger.
"Nutrien and Tianqi expect to close the transaction before the end of the year, as it had previously been announced," the two companies said in a joint statement shortly after the court's decision was made public.
The Chinese company's bid for the non-controlling stake raised concerns by Chilean antitrust authorities because of the lithium market shares of Tianqi and SQM, formally known as Soc. Quimica y Minera de Chile SA. Last month, FNE announced it had reached a deal with Tianqi that included a number of provisions to prevent concentration in the global lithium market.
SQM and major shareholder and former chairman Julio Ponce raised concerns about the FNE decision. Officials for SQM shareholders didn't immediately respond to requests for comment.
Tianqi shares, down 46 percent this year, were little changed in Shenzen on Friday. SQM shares rose as much as 2.7 percent on Friday shortly after the local market opened. The Solactive Global Lithium Index, which tracks producers and consumers of lithium, was down 0.7 percent.
To contact the reporter on this story: Laura Millan Lombrana in Santiago at lmillanlombr@bloomberg.net
To contact the editors responsible for this story: Luzi Ann Javier at ljavier@bloomberg.net, Keith Gosman, James Attwood