These European Banks are Most Exposed to Oil Shock, JPMorgan Says
These European Banks are Most Exposed to Oil Shock, JPMorgan Says
Natixis SA, Credit Agricole SA and Norwegian lender DNB ASA are the three European banks most exposed to plunging oil prices, according to JPMorgan.
French lender Natixis has 6.4% of its exposure at default, or EAD, linked to its lending to the oil and gas sector, analysts led by Kian Abouhossein wrote in a note Monday. Credit Agricole's EAD is 5%, while DNB's credit exposure is at a similar level. Commerzbank AG, ING Groep NV, SEB AB, Barclays Plc and Societe Generale SA all have EADs higher than 2%, the analysts estimated.
The Stoxx 600 Banks Index fell as much as 11% Monday, to the lowest since March 2009 and taking its decline since last month's peak to more than 31%, as a full-blown oil price war added to concerns over the spread of the coronavirus. JPMorgan noted that some banks, including those in Germany and Spain, provide limited details on their exposure to the energy sector.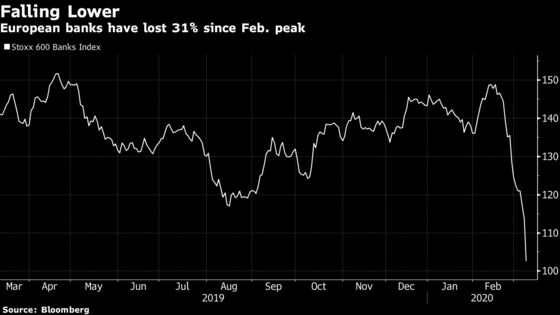 European bank losses were manageable over the period 2015-2016 when oil prices bottomed in the mid-$20s, the analysts said, while noting that this time lenders will assess any provisions they have to make on the basis of the new IFRS 9 accounting rules which are "materially more pro-cyclical," with upfront recognition of lifetime losses.
JPMorgan said it remains selective on European banks, with top picks including KBC Group NV UBS Group AG, BNP Paribas SA, Banco Bilbao Vizcaya Argentaria SA and Barclays.
"The plunge in the oil price will trigger hundreds of millions of dollars of provisions against oil-related exposures across European banks at 1Q, recalling the slew of charges taken in early 2016 when crude last plumbed current depths," Bloomberg Intelligence senior analyst Jonathan Tyce said in a note.
To contact the reporters on this story: Macarena Munoz in Madrid at mmunoz39@bloomberg.net;Jan-Patrick Barnert in Frankfurt at jbarnert3@bloomberg.net
To contact the editors responsible for this story: Beth Mellor at bmellor@bloomberg.net, Jon Menon