These Charts Show Impact of China's Casino Crackdown on Macau
These Charts Show Impact of China's Casino Crackdown on Macau
(Bloomberg) -- The announcement of more government scrutiny of Macau casinos has sent shockwaves through related markets.
Casino shares in Hong Kong and the U.S. slumped after Macau announced plans Tuesday to boost "direct supervising" of gambling companies to better monitor their operations, among other proposals. China had already been clamping down on gambling activity in Macau over concerns that the high-stakes betting can sometimes be an illicit channel for currency outflows and money laundering. 
Here is a graphical look at the impact of and context behind the move:
A group of stocks focusing on the Macau/China gaming market, which includes Wynn Macau Ltd. and Sands China Ltd., plunged 23% on Wednesday, the most ever. The gauge has fallen for six straight days and is now trading at the lowest since January 2016.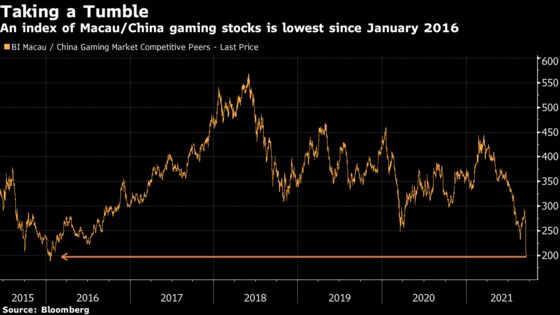 Investors had been boosting their bearish bets on Macau's casino stocks in the months before the latest curbs were announced. Short interest in SJM Holdings Ltd. and Melco International Development Ltd. had climbed to the highest since 2018 and 2016 respectively in August, according to data from IHS Markit Ltd.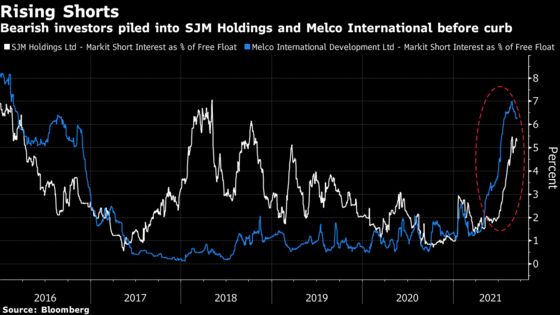 The selloff in stocks came on heavy trading. Volume in Wynn Macau shares on Wednesday was the highest since its initial public offering in 2009, according to data compiled by Bloomberg.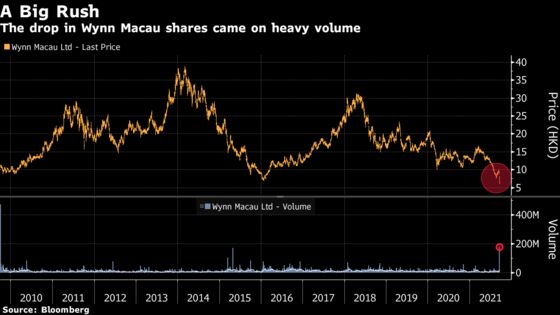 Overnight stays in Macau had been recovering from a plunge at the beginning of the pandemic, though they're still well off pre-Covid-19 levels.