Thai Finance Ministry Cuts GDP Growth Outlook on Virus Wave
Thai Finance Ministry Cuts GDP Growth Outlook on Virus Wave
(Bloomberg) -- Thailand's Finance Ministry cut its economic growth forecast for the second time this year as the country grapples with its biggest virus outbreak since the pandemic began.
The ministry now expects gross domestic product to grow to 2.3% this year, Kulaya Tantitemit, head of the Fiscal Policy Office, said Thursday. In January the ministry had lowered its forecast to 2.8%, from the 4.5% initially expected.
"Tourist arrivals is an important factor that led us to revise down the economic growth for this year," Kulaya said, as the ministry further lowered tourism forecasts that already were cut in January. "The situation has changed dramatically after the new outbreak."
The Finance Ministry is the first agency to revise its forecasts after a third wave of Covid-19 infections hit Thailand this month, almost doubling the total number of confirmed cases since the pandemic began to more than 60,000.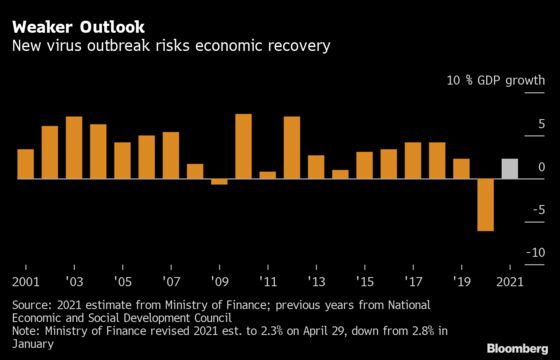 Earlier in April the Bank of Thailand indicated that economic growth and headline inflation this year might undershoot its projections from March of 3% and 1.2%, respectively, though it didn't give new estimates. The National Economic and Social Development Council, which provides a third set of official forecasts, lowered its 2021 growth forecast to 2.5%-3.5% in February, but hasn't commented yet on the impact of the new outbreak.
The baht was up 0.3% against the dollar on the day, barely budging on the new GDP forecast. Thai stocks ticked up after the news to gain 0.9% on the day.
Prime Minister Prayuth Chan-Ocha is under pressure to tighten restrictions on business and travel as the outbreak, which began in Bangkok nightlife venues, overwhelms hospitals and healthcare facilities. Authorities in the capital closed dozens of types of businesses such as cinemas, gyms and convention centers for two weeks starting Monday, while shortening operating hours for malls and convenience stores.
The government has prepared an additional budget worth 380 billion baht ($12.1 billion) to boost the economy, which had just started to recover from a second wave of infections that began in mid-December.
Kulaya said the ministry was being "conservative" in cutting the forecast for tourist arrivals this year to 2 million, from January's estimate of 5 million and the 8 million estimated in October 2020. The forecast for 2021 tourism revenue was cut to 170 billion baht, from January's forecast of 260 billion baht and October 2020 estimate of 400 billion baht.
"The speed of rollout of vaccines will also be an important factor, both in Thailand and abroad, as it can help support foreign tourist arrivals," Kulaya said.
Other points from Thursday's briefing and a Ministry of Finance press release:
Economic activity is expected to pick back up from the third quarter
The ministry is prepared to take more fiscal steps to boost growth if needed
Headline inflation is seen rising 1.4% this year, and core inflation 0.4%
Exports are expected to rise 11% this year and imports 18%, with the current-account surplus seen at $1.1 billion