Thai Economy Signals Recovery on Stimulus, Local Demand
Thai Economy Signals Recovery on Stimulus Steps, Local Demand
15 Feb 2021, 8:08 AM IST
(Bloomberg) -- Thailand's economy continued to climb back from the pandemic blow in the final quarter of 2020, supported by government stimulus and local demand, but it wasn't enough to keep the economy from its worst full-year showing since the 1998 Asian financial crisis.
Gross domestic product shrank 4.2% from a year ago, the National Economic and Social Development Council said Monday, improving from the prior quarter's 6.4% contraction and better than the median estimate of -5.4% in a Bloomberg survey of economists. Compared to the previous three months, GDP rose a seasonally adjusted 1.3%, beating the survey estimate of 0.8%.
The better-than-expected reading comes as Southeast Asia's second-biggest economy is grappling with a surge in new coronavirus cases and a simmering political standoff that pits a pro-democracy reform movement against the military-backed government and monarchy.
"This year, apart from stimulating local consumption, we need to attract more foreign investment, so the political situation will be important to boost confidence," Danucha Pichayanan, the council's secretary general, told reporters in Bangkok. "The government's priority is containing the outbreak to a limited area and procuring enough vaccines to create herd immunity soon."
The economy contracted 6.1% for all of 2020, compared with 2.3% growth in 2019 and the 6.4% contraction expected. It was the worst showing since the 7.6% decline in 1998.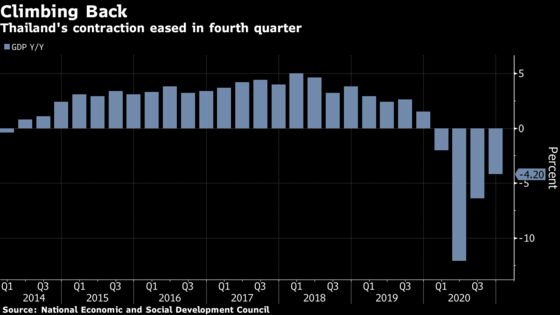 The baht extended its gains after the data, up 0.14% against the dollar as of 11:30 a.m. local time. The benchmark SET Index rose as much as 0.8%.
The Covid pandemic has hit two of Thailand's main growth drivers, tourism and trade, particularly hard. The government has responded with a series of measures, including tax incentives and a $1.7 billion stimulus package in the fourth quarter, as well as a $7 billion program of cash handouts in the first quarter of this year after a fresh outbreak began in mid-December.
What Bloomberg Economics Says...

Thailand's ongoing recovery alleviates immediate pressure on the central bank to lower interest rates further. It also reaffirms our view that the Bank of Thailand will leave its policy rate unchanged at 0.50% this year. The drop in GDP in 4Q was not nearly as deep as most feared.

-- Tamara Mast Henderson, Asean economist

To read the full note, click here
The council lowered its 2021 growth forecast to 2.5%-3.5%, from November's estimate of 3.5%-4.5% growth. The new forecast is in line with the 2.8% rise seen by the country's Finance Ministry and the 3.2% growth the central bank predicts.
"We expect economic activity to turn a corner gradually while remaining asynchronous, as part of the turnaround requires firmer global demand and international borders to reopen," said Radhika Rao, an economist at DBS Bank Ltd. in Singapore. "Fiscal support will be key to underpin recovery this year as monetary easing runs its course."
Earlier this month the Bank of Thailand held its key interest rate steady for a sixth straight meeting, saying fiscal measures and policy coordination among government agencies would be critical to support the economy going forward.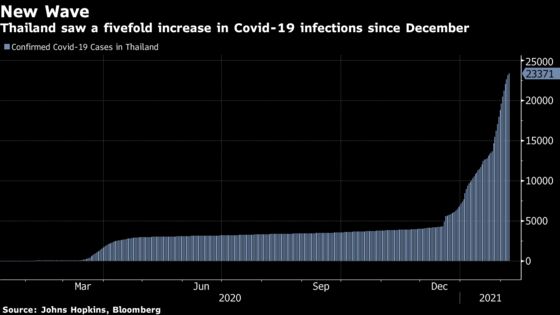 "While the Bank of Thailand has clearly called for further government stimulus, we believe room for further fiscal policy is shrinking as public debt approaches the legal ceiling," Tim Leelahapan, an economist at Standard Chartered Bank Plc in Bangkok, wrote after the GDP data. "Cash handouts to people adversely affected by the second Covid wave will end in the first quarter, and further economic stimulus measures are unclear as of now."
Other points from the council's briefing:
Exports are expected to rise 5.8% this year, up from 4.2% growth predicted in November
The council now expects 3.2 million tourists to arrive in 2021, down from a previous estimate of 5 million; tourism revenue forecast cut to 320 billion baht

vs

490 billion baht forecast previously
The government is likely to begin easing travel restrictions in the fourth quarter of this year
Some 50% of Thailand's population should be vaccinated against coronavirus by the end of this year, and 75% by the first half of 2022
Risks to this year's outlook include a delay in vaccine rollout, a more severe virus outbreak, a delay in the tourism recovery and drought