Swedish Challenger to H&M Planning IPO to Lure ESG Investors
Swedish Challenger to H&M Planning IPO to Lure ESG Investors
(Bloomberg) -- One of Sweden's fastest growing online retailers is getting ready to raise funds on the stock market by convincing ethically-conscious investors that fast fashion can be sustainable.
Jarno Vanhatapio, chief executive officer and founder of Nakdcom One World AB, says the company is now "preparing for all scenarios" when it comes to funding, and while there is no set date for an initial public offering, "we are looking at our cap table for sure."
By selling clothes from its website Na-kd.com, the company aspires to become "one of the top 1% most sustainable fashion companies in the world," Vanhatapio said in an interview.
The CEO points to Na-Kd's sustainability initiatives as setting it apart from rivals such as Hennes & Mauritz AB and Inditex SA's Zara, which are also saddled with a network of legacy stores. He says the company's inventory management, production proximity to end markets and second-hand business will help cut carbon emissions by 50% by 2030 compared to last year's baseline.
That narrative is likely to appeal investors who remain hungry to load up on assets that meet environmental, social and governance goals. It's a point that hasn't gone unnoticed by one of the company's main backers, Northzone Ventures Sweden AB.
Jessica Schultz, a general partner at Northzone, said the six-year-old retailer "is getting a lot of proposals from interested parties as they see what Na-Kd has built and how they are positioned when it comes to ESG."
Schultz also said preparing the company for an IPO while keeping options open generates "the most value."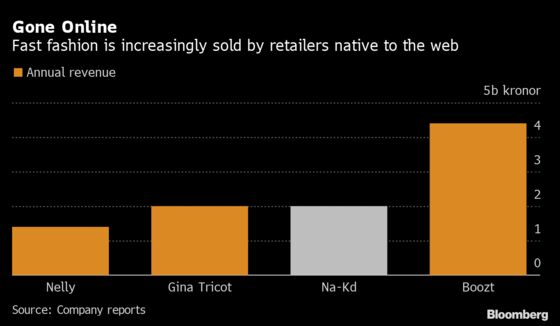 The pre-owned items web shop, Na-Kd Circle, launched in April. What sets it apart from similar initiatives by rivals is that it's "the world's first integrated second-hand platform where you can shop both new and old items in the same basket," Vanhatapio said.
The company aims for second-hand clothing to generate a significant part of sales, somewhere between "10% and 30%," the CEO said. It's currently making roughly $20,000 a day from the business -- around 3% of total sales on an annualized basis.
Overall revenue is also growing, up 57% in 2020 to about $228 million with a target to expand to as much as $340 million a year. (In contrast, H&M's annual sales exceed $20 billion.) Almost 1.9 million people shopped at Na-Kd last year, most of them in nearby markets Scandinavia, Germany and the U.K.
Na-Kd's other backers are venture capital firms Partech and Eequity. In a private placement in May, a new investor Ernstrom & Co contributed 400 million kronor ($47 million), at a valuation of about $615 million.