Record $1 Billion Loss Signals `Happy Year' for India's SBI
(Bloomberg) -- State Bank of India, the country's largest lender by assets, joined its private peers in shrugging off losses as investors believe the lenders have finally got a handle on bad loans.
SBI's shares surged to a six-week high after it reported a record loss on Tuesday, weighed down by a doubling in provisions for soured debt. A similar contrarian market reaction was seen after No. 2 private lender ICICI Bank Ltd. and smaller rival Axis Bank Ltd. reported poorer-than-expected earnings.
"The fact that State Bank has booked the losses like Axis Bank is heartening for investors," Gopal Sharma, head of institutional sales at Inventure Growth & Securities Ltd., said by phone. "Also, generation of bad loans seems to be more or less contained for now."
Chairman Rajnish Kumar has predicted earnings will start to improve in the year through March 2019, buoyed by loan recoveries under a revamped bankruptcy law. Optimism is high following the biggest asset sale under India's new insolvency code, which was completed last week.
"Last year was one of despair, this year is of hope and the one ending March 2020 will be one of happiness," Kumar said at a subsequent briefing. "We have already taken a hit for all asset quality related issues and within next two years gross bad loan ratio will fall below 6 percent."
Gross bad loans were 10.91 percent of total lending in the quarter ended March 31, 2018, rising from 10.35 percent the previous quarter. SBI swung to a loss of 77.2 billion rupees ($1.1 billion) in the period from a profit of 28.1 billion rupees a year earlier. That compares with a loss of 17.3 billion rupees predicted by the average of 14 estimates compiled by Bloomberg.
SBI shares rose about 4 percent to 253.90 rupees in Mumbai on Tuesday, the highest since April 11 and paring this year's drop to 18 percent. The broader Bankex gauge has gained 0.3 percent this year while India's main equity index advanced 1.8 percent.
Provisions for bad debt jumped to 241 billion rupees from 109.9 billion rupees a year earlier
Net interest income dropped 5.2 percent to 200 billion rupees
Domestic net interest margin declined 26 basis points from previous year to 2.67 percent
Capital-adequacy ratio dropped to 12.6 percent from 13.11 percent
The bank will need to pay an additional 36 billion rupees in gratuity following a change in local law of which they still need to pay 27 billion rupees in calendar 2018
For the year ended March 2017, the bank had assessed net bad loans at 582.8 billion rupees compared with 758 billion rupees in an audit conducted by the regulator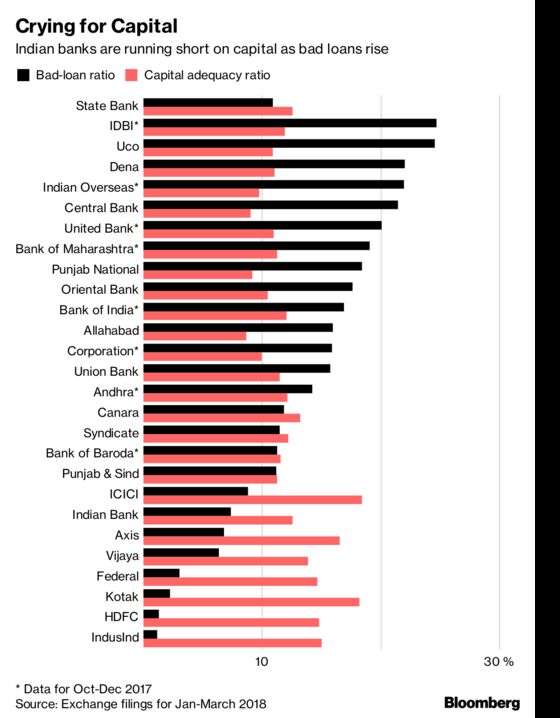 ICICI Bank last month said income halved in the January-March quarter and guided that its net bad-loan ratio will narrow to about a quarter of the current level over the next two years. Axis Bank reported its first-ever loss and outgoing Chief Executive Officer Shikha Sharma said recognition of bad loans is "nearly complete." SBI's Kumar said the year to March 2020 will be "a happy year on all performance metrics."
"Hitting rock bottom is the best thing that can happen sometimes," said Kranthi Bathini, director of Mumbai-based financial advisory company WealthMills Securities Pvt. "Investors believe that it just can't get worse from here for SBI and hence are adding the scrip, betting on a new beginning for the bank."
--With assistance from Candice Zachariahs, Santanu Chakraborty and Arijit Ghosh.
To contact the reporter on this story: Anto Antony in Mumbai at aantony1@bloomberg.net
To contact the editors responsible for this story: Marcus Wright at mwright115@bloomberg.net, Jeanette Rodrigues, Russell Ward