South Africa's Mining Industry Is About to Come to a Standstill
South Africa Orders Mines to Close in 21-Day Virus Lockdown
(Bloomberg) -- South Africa's iconic mines, from the ever-deepening gold shafts on which the economy was founded to massive iron ore pits and rich platinum seams, are about to go silent.
From midnight Thursday, all but a few coal operations needed to fuel the country's power stations are expected to be included in a nationwide lockdown aimed at containing the coronavirus. The sweeping shutdown is unprecedented in the 150-year history of South Africa's mining industry, which today employs more than 450,000 people.
President Cyril Ramaphosa is moving quickly to curb the virus spread as infections threaten to spiral out of control in a country with an already strained health system and rampant unemployment. The army will help police to enforce the lockdown, with grocers, pharmacies, banks, filling stations and other essential services allowed to remain open.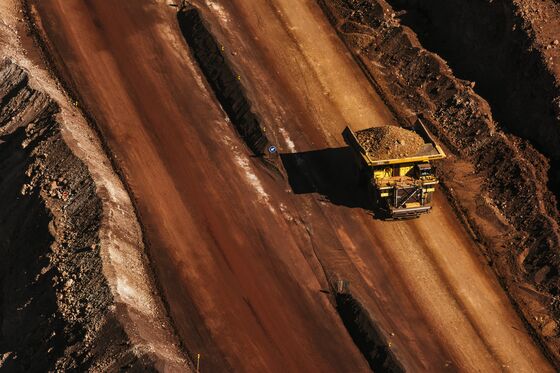 Producers from Harmony Gold Mining Co., the nation's biggest producer of the precious metal, to top platinum miner Sibanye Stillwater Ltd. said they're bracing for earnings hits as mines move to care and maintenance, an industry term for when production stops but essential services like underground water pumping continue. Anglo American Plc said it will review the detailed regulations on the lockdown when they're published, including for potential exemptions.
"This would be unprecedented in the history of mining in South Africa," said Roger Baxter, the chief executive officer of the Minerals Council South Africa, the main industry group. "There were certain times when components of the industry were closed, for example during the second world war, but this is unprecedented."
South Africa's mining industry is labor intensive, and digging underground means workers regularly enter narrow elevators together to travel beneath the surface. Many of the thousands of workers who will be affected by the shutdown live in close proximity to one another in mining communities around the operations.
"Companies whose operations require continuous processes such as furnaces, underground mine operations will be required to make arrangements for care and maintenance to avoid damage to their continuous operations," Ramaphosa said Monday.
For global metal markets, the biggest impact may be in platinum and palladium -- South Africa accounts for 75% and 38% respectively of global supply. Prices for both metals, which are used in autocatalysts, extended gains Tuesday, with spot palladium rising more than 15%, the biggest intraday gain since 1998. Shares in MMC Norilsk Nickel PJSC, the world's top producer of palladium, jumped as much as 23%.
Palladium was in a persistent and widening global deficit before the health crisis took hold around the world. Still, sweeping factory closures by carmakers are likely to limit the effect of South Africa's shut down on global metal supplies as demand tumbles.
South African operations are also crucial for some of the world's biggest miners. Anglo American was projected to get about 50% of its profits from the country this year, according to BMO Capital Markets. Glencore Plc and South32 Ltd. are also active in the country, while smaller miners such as Petra Diamonds Ltd. and Bushveld Minerals Ltd. have the majority of their operations there.
The two biggest industry labor groups, the Association of Mineworkers and Construction Union and National Union of Mineworkers, both welcomed the measures announced by Ramaphosa.
The Minerals Council is also exploring what will be required to prevent the lockdown leading to permanent damage of the industry, it said in a statement.
"There are marginal and lossmaking mines that would likely be unable to reopen should they be required to close fully, without remedial measures," the group said.