Santander Set to Beat Profitability Goal on Pandemic Rebound
(Bloomberg) -- Banco Santander SA said it's on track to beat a key profitability metric for the year with earnings from the U.S. and U.K. fueling the Spanish lender's resurgence after historic losses linked to the pandemic.
The bank posted net income of 2.1 billion euros ($2.5 billion) in the second quarter, topping analyst estimates, as its U.S. consumer-lending business and lower provisioning charges helped power the recovery. The rebound follows a historic 11.1 billion-euro quarterly loss last year after impairments booked at the height of the health emergency.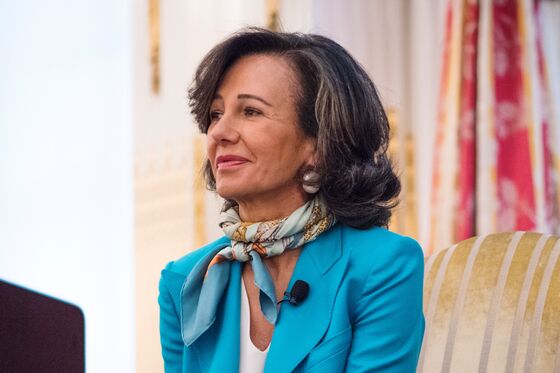 Chairman Ana Botin is predicting high levels of economic expansion in Spain and around the world, while piloting the lender's growth in areas such as U.S. fixed-income trading. With capital levels above its target, the bank is setting aside as much as half of underlying profit to distribute to shareholders after the European Central Bank said it will remove the restrictions on payouts that were put in place during the health crisis.
"We are on track to outperform our profitability target for the year and continue to target a shareholder remuneration payout of 40%-50% of underlying profit," Botin said in a statement on Wednesday.
Santander fell 0.5% at 10:28 a.m. in Madrid. They're up 25% this year, compared with a 23% gain for the STOXX 600 Banks Index.
The bank's performance has steadily improved since the huge loss a year ago, when the pandemic's onset forced Santander to write down businesses across the globe. Botin had told shareholders in March that a strong first-quarter performance would lead to an underlying return on tangible equity of about 10% for 2021, which it now expects to exceed. At the time, it had already given a slight upgrade to the original goal of between 9% and 10%.
With revenues from its European lenders still shackled by ultra-low interest rates, Santander is expanding in other regions and areas of business where it sees scope for higher growth. That includes the $600 million purchase earlier this month of independent U.S. broker dealer Amherst Pierpont Securities, and an offer to buy out outstanding minorities at the U.S. consumer business.
The push for growth has gone hand in hand with cost cuts. In Europe, the bank has shed thousands of jobs in Spain and closed a swathe of U.K. branches as it seeks to drive down expenses.
Even so, costs came in higher than expected, with operating expenses up 6% on a constant basis, Benjamin Toms, an analyst at RBC Capital Markets, said in a report, noting the lender's "decent set of results."
Meanwhile, the lender delivered a 6% gain in total income as loans and deposits increased.
"The key element of our results is top-line growth," Chief Financial Officer Jose Garcia Cantera told Bloomberg TV in an interview.
Second-quarter underlying earnings from the U.S. rose more than fourfold to 674 million euros, as the improved macroeconomic outlook and the strength of used car prices helped the lender release provisions.
In the U.K., where Santander's business is being driven by better margins, volume growth and lower loan-loss charges, underlying profit jumped to 399 million euros from 19 million euros a year earlier. Earnings slipped in Spain, but rose nearly 30% in Brazil, another of the lender's main markets.
Net interest income EU8.24b

vs

est. EU8.09b
Net loan loss provisions EU1.76b, a 44% decline from year earlier
Bad loan ratio 3.22%

vs

3.2% in first quarter
CET1 ratio (phased in) 12.11% from 12.26% in first quarter and compared to 11% to 12% target range; fully-loaded 11.7%