Russia Oil, Condensate Output Fell While OPEC+ Eased Limits
Russia Pumped Less Oil, Condensate in June Despite OPEC+ Hikes
(Bloomberg) -- Russia reduced oil production in June after keeping it almost flat in May, despite more generous quotas from the OPEC+ alliance.
Producers pumped 42.64 million tons of crude and condensate last month, according to preliminary data from the Energy Ministry's CDU-TEK unit. That's about 10.419 million barrels a day, or 0.5% less than in May, Bloomberg calculations show, based on a 7.33 barrels-per-ton conversion rate.
It's difficult to assess Russia's adherence to the output agreement between the Organization of Petroleum Exporting Countries and its allies, as CDU-TEK doesn't provide a breakdown between crude and condensate, which is excluded from the deal. If Russia produced the same level of condensate as in May -- about 930,000 barrels a day -- then daily crude output would be some 9.489 million barrels, slightly above its June quota of 9.457 million barrels.
"This output drop may be because Russia is still trying to get back in line with its compliance and the Energy Ministry is trying to enforce some discipline," said Ron Smith, senior oil and gas analyst at BCS Global Markets.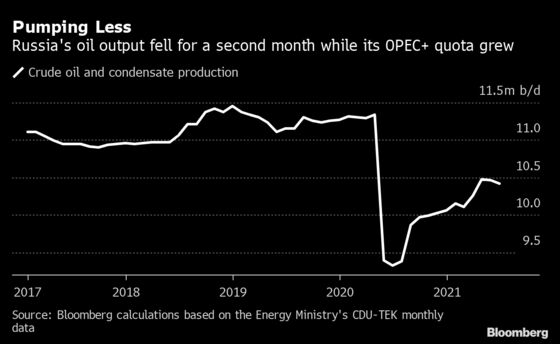 Russia's compliance with the OPEC+ deal increased to 94% in May from 91% the previous month, the International Energy Agency said in its latest monthly report. The Energy Ministry didn't immediately respond to Bloomberg's request for comment about the level of adherence in June, or the reasons for the decline in total output last month.
Most of Russia's companies increased average daily output of crude and condensate in June compared with May. Rosneft PJSC, which accounts for about 40% of the nation's supply, produced 0.3% higher excluding unit Bashneft, which pumped 18% more. Lukoil PJSC, the second-largest producer, raised by almost 1%, and Gazprom Neft PJSC 1.1%.
But Tatneft PJSC pumped on average 3.3% lower and Surgutneftegas PJSC 0.6%. Slavneft, a joint venture of Rosneft and Gazprom Neft, reduced production of crude and condensate by 5.6%.
Under the deal with OPEC+, Russia was allowed to raise its crude-only production by a total of 116,000 barrels a day from May to July. The group's talks on supplies in August and beyond stumbled on Thursday after the United Arab Emirates blocked a preliminary agreement to raise overall output by 400,000 barrels a day each month from August to December.
The coalition's Joint Ministerial Monitoring Committee is scheduled to meet again on Friday, after which all OPEC+ ministers will convene.
Should the OPEC+ agree on further hikes, Russia will be able to boost its oil production quickly in August, according to analysts from Bank of America, Fitch, Wood & Co., Renaissance Capital and BCS Global Markets.
"I don't see any problems with crude production, and for sure Russia can increase its output by over 100,000 barrels a day in August should OPEC+ reach a consensus," Smith said.