Rio Moves to Stop Shipments to Russian-Owned Alumina Plant
Rio to Halt Shipments to Russian-Owned Alumina Plant in Ireland
(Bloomberg) -- Rio Tinto Group plans to end deals with a United Co. Rusal International PJSC refinery in Ireland that's a key supplier to Europe's aluminum industry, pushing the metal to its biggest gain in three years.
Russia's invasion of Ukraine has upended commodity markets, with prices of everything from oil to wheat soaring over the past two weeks. The war is starting to have wider repercussions as sanctions and self-imposed restrictions on Russian businesses choke off shipments from one of the world's biggest exporters of raw materials.
Rio has an agreement to supply bauxite to Rusal's Aughinish refinery in Ireland and then take an equivalent amount of alumina once its processed. Rio ships the alumina to both its own aluminum smelters in Europe and third-party producers. The refinery became a flashpoint for the global aluminum industry in 2018 when previous sanctions on Rusal upended the market.
Rio's decision to start cutting ties with Rusal's plant in Ireland came before the U.K. government said it was sanctioning Russian billionaire Oleg Deripaska, who has a stake in Rusal's parent En+ Group International PJSC.
Aluminum on the London Metal Exchange spiked on news of the sanctions and Rio's plans to cut supply. The metal, fresh from hitting a record high earlier this week, jumped as much as 6.5%, the steepest gain since April 2018 and traded at $3,552 a ton by 2:23 p.m. in London.
Rio is in the process of stopping both shipments, according to a person familiar with the situation who asked not to be identified as the matter is private. It's not yet clear when the shipments will stop as Rio looks to unwind existing contracts, the person said. 
A spokesman for Rio declined to comment.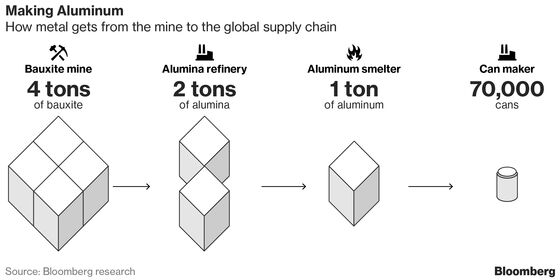 Rio said earlier Thursday that it was joining a growing list of companies cutting ties with Russia. The London-based miner also operates the Queensland Alumina Ltd. joint venture with Rusal, which holds a 20% stake. While Rio is evaluating its options regarding the partnership with Rusal, it said last week that it had the "appropriate structures" in place to ensure Queensland Alumina's operations would not be disrupted.
En+ is currently reviewing its business, with one option being a possible carve out of the Russian aluminum giant's international business. The new company would take over Rusal's alumina, bauxite and aluminum assets across the globe, including in Africa, Australia and Europe, according to people familiar with the matter.
Rusal, unlike most of its Russian natural resource peers, has significant international operations and the Rio's decision highlights the widening reverberations beyond direct purchases from the commodities behemoth. Rusal also has an alumina plant in Jamaica and bauxite mines in Guinea.
The news comes as the global aluminum trade is already attempting to de-risk positions in Russian metal. There are signs of self-sanctioning by traders, mirroring developments in the oil market since Russia's invasion of Ukraine two weeks ago. 
Deripaska sold down his majority stake in Rusal after he and the company were sanctioned by the U.S. in 2018. The U.S. lifted sanctions on Rusal and EN+ in early 2019.
Rio's move will spark fresh concern among Europe's aluminum users, including the region's automakers. The Aughinish plant has traditionally been a major supplier to Europe's aluminum smelters, including the biggest in Dunkirk.
Historically, Rio was the largest supplier to the plant, but the miner has been looking to make its supply chain more resilient after the previous sanctions. It's not clear what percentage of the plant's bauxite supply and alumina production it currently ships.