Red-Hot Chip Stocks Are Cooling 
(Bloomberg) -- A dream run in shares of semiconductor makers that's outpaced even the dot-com bubble might be hard to repeat.
The Philadelphia Stock Exchange Semiconductor Index, home to the likes of Nvidia Corp. and Advanced Micro Devices Inc. and known as the SOX, has gained 36% in 2021, outperforming the Nasdaq 100 Stock Index for the third straight year after advances of more than 50% in both 2019 and 2020. That brings the three-year cumulative return including dividends to almost 250%, exceeding gains seen in any similar span of the late-1990s technology mania. 
Demand for semiconductors may have peaked after an unprecedented shortage snarled production this year of everything from fridges to phones to cars. Global growth in chip sales slowed in October to May levels and has been cooling for three straight months, industry statistics show.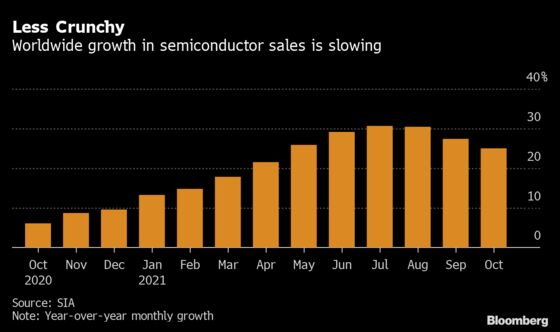 With demand from carmakers and other manufacturers still outstripping supply, investors are hardly turning bearish on the industry. But they're keeping an eye on obstacles that could end the outperformance, such as concerns about an inventory buildup, extended valuations and the threat of a jump in interest rates.
"2022 will be a year when the SOX will struggle to repeat the significant relative outperformance it has enjoyed for the last three years," said Neil Campling, an analyst at Mirabaud Securities. "At some point next year, we will discover that some of the current backlog semiconductors have will prove to be double ordering."
Hock Tan, chief executive officer of Broadcom Inc., said last week on the chipmaker's earnings call that some areas in the semiconductor market look "excessively hot." The company is making efforts to ship only products that will be used in production rather than sit on inventory shelves for future need, he said.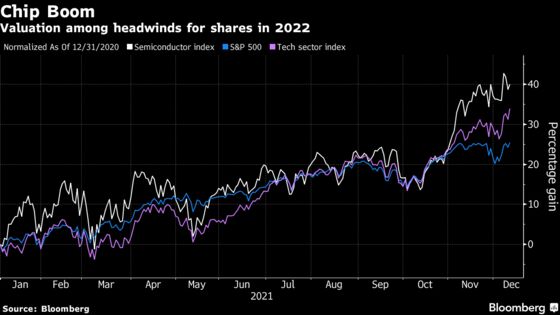 After this year's surge, the SOX is priced at about 6.3 times estimated sales for the next 12 months versus a 10-year average of 3.6 times. Nvidia, the biggest company in the basket, trades at 56 times forward earnings, while Intel Corp. and Qualcomm Inc. trade at less than 20 times.
Analysts are scrambling to increase their price targets on Apple Inc. stock as the iPhone maker's market value approaches $3 trillion. JPMorgan Chase & Co. and Bank of America Corp. this week boosted their 12-month objectives to $210, the highest on Wall Street.