Powell Says U.S. Labor Market 'Very Strong' by Many Measures
The figures are projected to show that U.S. employers added 198,000 jobs to nonfarm payrolls in November.
(Bloomberg) -- Federal Reserve Chairman Jerome Powell delivered a bullish assessment of the U.S. economy and the job market on the eve of the scheduled release of November employment data.
"Our economy is currently performing very well overall, with strong job creation and gradually rising wages,'' Powell said in the text of a speech to be delivered to a housing conference in Washington on Thursday. "In fact, by many national-level measures, our labor market is very strong.''
Economists are forecasting a moderating but still strong pace of hiring in the Labor Department's monthly report Friday at 8:30 a.m. in Washington, despite some job-market data this week showing the potential for cooling.
Read More: U.S. Job Gains 'Peaked' in Figures Ahead of Monthly Report
The figures are projected to show that U.S. employers added 198,000 jobs to nonfarm payrolls in November. That's still considered healthy, though it would be less than October's 250,000. The unemployment rate probably held at 3.7 percent, the lowest since 1969, while wages likely advanced 3.1 percent from a year earlier, matching the fastest pace since 2009.
Powell's comments are his final scheduled public remarks before the Fed goes into a blackout period before its Dec. 18-19 policy meeting, at which officials are expected to raise interest rates by a quarter percentage point for the fourth time this year.
Investors, though, have reduced their bets on 2019 rate increases amid stock-market losses and heightened fears of a trade war between the U.S. and China. Trading in federal funds futures shows the odds of a rate increase next year have dwindled to less than a single quarter-point move.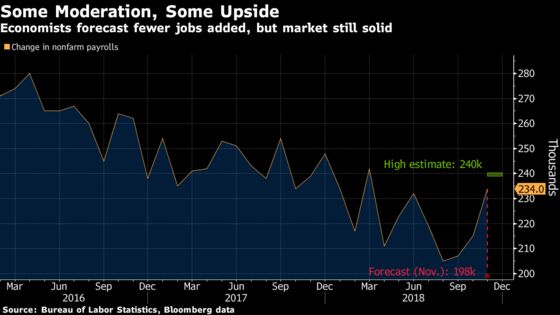 The Fed has lifted borrowing costs eight times since December 2015 in a bid to keep the economy from overheating and is nearing the policy setting that neither boosts nor slows growth. With this so-called neutral rate in sight, Fed officials are cautioning that further moves should continue to be gradual and dependent on incoming economic data.
Federal Reserve Bank of New York President John Williams, speaking later on Thursday, said the biggest challenge facing policy makers is achieving a soft economic landing.
"We have a pretty strong economy -- unemployment pretty low, inflation near our goal -- it's just managing a soft landing, keeping this expansion going for the next few years," he said in remarks with former Bank of England Governor Mervyn King at the LSE Foundation in New York.
"In practice we know things happen, unforeseen events can occur. We just need to be really prepared and be nimble about how we respond to changing circumstances."
The Fed's campaign of gradual rate increases has drawn the ire of President Donald Trump, who's blamed the central bank for steep stock-market losses, often lashing out on Twitter.
Williams brushed these attacks aside.
"Sure, I'm aware that there is a Twitter -- there are Twitters out there, we can see the news cycle. But we have this long history going back decades and decades" of independence, he said. "In the long run, we're going to be judged by how well we do our job."
--With assistance from Katia Dmitrieva.
To contact the reporters on this story: Rich Miller in Washington at rmiller28@bloomberg.net;Jeanna Smialek in New York at jsmialek1@bloomberg.net
To contact the editors responsible for this story: Brendan Murray at brmurray@bloomberg.net, Alister Bull