Petropavlovsk Looks To Sell Gold Mines as Sanctions Bite
(Bloomberg) -- Petropavlovsk Plc, once one of the biggest London-listed gold miners, said it's looking at selling all its assets as sanctions against Russia mean it can't sell the bullion it produces in the country or pay its debts.
The gold miner has found itself in an existential crisis after Russia's invasion of Ukraine and the sanctions that followed. The company is headquartered and listed in London, but all its gold mines are in Russia's far east.
Petropavlovsk has an agreement with Russia's Gazprombank, which acts as off-taker of all the company's gold production under the conditions of two loans. But U.K. sanctions against the Russian lender mean Petropavlovsk is unable to sell any gold. The company also has bond payments due next month and has limited cash reserves outside Russia.
The stock fell as much as 27%. Petropavlovsk has slumped 90% in London trading this year.
"In the present circumstances the board considers that it will be very challenging to refinance the notes," Petropavlovsk said Thursday in a statement, outlining why it was looking at other options. "It is not currently clear what return, if any, may be secured for shareholders or the holders of the bonds or notes as a result of this process."
A little more than a decade ago, Petropavlovsk was worth $3 billion and mentioned as a future member of the benchmark FTSE 100 Index, but sinking gold prices and management missteps reduced it to a penny stock.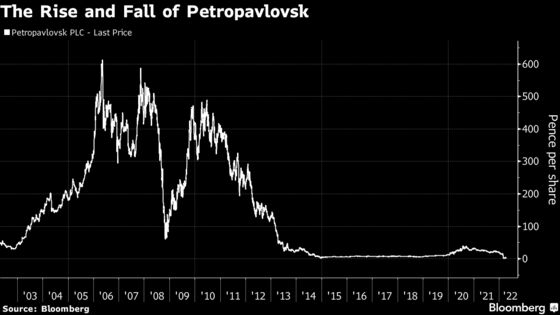 Once known as Peter Hambro Mining Plc, after the banking heir who founded it, in recent years the company has been mired in board and shareholder disputes that saw a series of Russian and Kazakh businessmen hold a major shareholding.
Petropavlovsk said Thursday that it had appointed AlixPartners UK LLP to assist its board in exploring various options including the sale of the Russian gold miner's entire interests in its operating subsidiaries.
The London-listed company had previously started talks with advisers for a potential debt restructuring after its lender Gazprombank was added to the list of sanctioned entities in the U.K. The miner was unable to make about $10 million of interest payments in dollars and rubles to the lender due last month.