Pemex Sees a Bigger Drop Than Forecast for 2021 Fuel Sales
(Bloomberg) -- Petroleos Mexicanos is now expecting a bigger drop for fuel sales compared with pre-pandemic levels than previously forecast amid a slow recovery in domestic demand and growing competition from private retailers.
This year's gasoline sales are expected to fall by 19% versus pre-pandemic levels, and diesel is seen as much as 25% lower, according to people with knowledge of the situation. The decline for gasoline is 3 percentage points greater than what the company expected in April.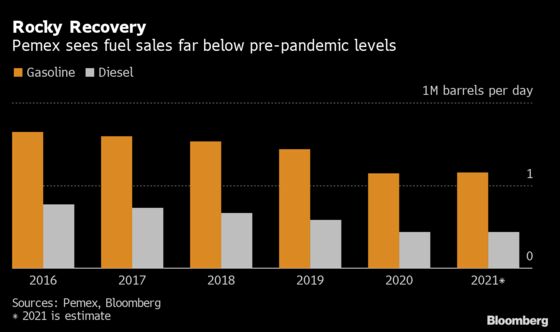 The weaker outlook suggests that Pemex, which had a monopoly until 2014, is struggling to maintain its vast market share amid increased competition. Even as Mexico's fuel demand gradually recovers from the depths of the pandemic, the rebound has been sluggish. The state oil giant expects gasoline and diesel sales to rise less than 2% in 2021 compared with last year, according to the people, who asked not to be identified because the forecasts are confidential.
A Pemex representative didn't respond to a request for comment.
"Pemex has been losing market share to private companies that have opened more gas stations in Mexico and have advanced marketing strategies," Karina Lopez Huitron, a research analyst for Wood Mackenzie in Mexico City, said in a phone interview. "In the past, Pemex had lower prices compared to competitors, but this difference has been declining little by little, and Pemex's competitive advantage is being worn down."
Mexico's lackluster economic recovery has also played a role in the disappointing fuel sales. 
Rising inflation has reduced consumers' purchasing power, and higher domestic pump prices -- spurred by reduced inventories in the U.S. following hurricanes and a crude price rally -- have also dampened demand, according to Huitron. 
Diesel has been especially hard hit, with sales falling 5% in the week ending Aug. 27 compared with a year ago, and 31% below the same period in 2019, according to the latest data compiled by the energy ministry. By comparison, gasoline sales grew 13% over the same period, and sales were 5% below pre-pandemic levels. 
"Diesel depends a lot on the capacity of industries -- agriculture, energy, supply chains, manufacturing," Huitron said. "Since there wasn't a strong recuperation, diesel hasn't recovered to 2019 levels."
Wood Mackenzie estimates that Mexican gasoline demand will gradually rise to 710,000 barrels a day by December, a 15% increase compared with last month.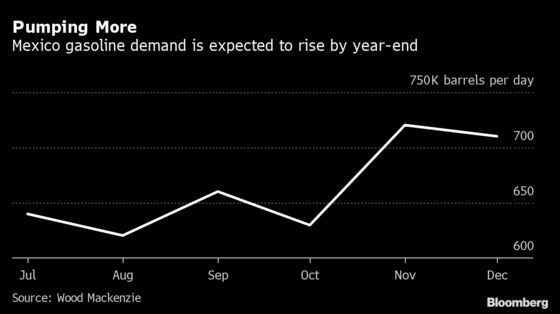 Pemex's outlook for reduced fuel sales comes even as President Andres Manuel Lopez Obrador has sought to give the state company the upper hand in the market. His government has tried to dial back the 2013 and 2014 reforms that lured in major fuel retailers such as Royal Dutch Shell Plc, BP, Chevron Corp. and Exxon Mobil Corp to Mexico, ending Pemex's almost eight decade monopoly in the sector. 
Earlier this year, Lopez Obrador approved several bills that award the state oil giant greater control over national gasoline and diesel distribution, and he's tweaked legislation to give the government greater freedom to suspend private companies' fuel permits. 
While parts of the bills are being held up in the courts due to legal injunctions filed by energy companies, regulators have cracked down on the nascent private fuel sector. Retailers and distributors are facing delays in receiving permits to transport and import fuel. And at least three fuel storage terminals have been shut in the past month and a half, according to national newspaper Reforma. 
Pemex has been struggling under the highest debt burden of any oil company, at $115 billion, and amid long-term declines in oil production. The number of Pemex's franchise service stations fell 13% last year to 7,468, representing 57% of the country's total. An additional 883 service stations are registered under the Pemex brand sub-licensing scheme.