Pearson Shares Slump on U.S. Courseware Drop, CFO Departure
Pearson Plc shares fell as much as 14% after the world's largest education company forecast another drop in demand for U.S. college textbooks and said its chief financial officer will leave.
Sales of U.S. higher education course materials -- the source of successive profit warnings in recent years -- fell 12% in 2019 as students switched to online learning and rented books instead, Pearson said in a statement. It sees continued "heavy declines in print" this year.
"Students are now moving from print to digital far more quickly," Chief Executive Officer John Fallon, who is stepping down later this year, told reporters on a call. "That gets us to the future stage of the business more quickly, but it is painful in the year it happens."
Pearson said CFO Coram Williams will be replaced by Deputy Chief Financial Officer Sally Johnson. Shore Capital analyst Roddy Davidson said the departure of both the CEO and CFO point to a period of uncertainty and lost momentum.
Pearson's shares have lurched lower since a September profit warning blamed on weak revenue from U.S. universities. The sales slump has worsened since then, with no recovery in sight.
"The U.S. higher education expectations are materially worse than previously expected," said Alex DeGroote, an independent media analyst. "It's just more of the same, more downgrades. This is a stock that's stuck in a downgrade cycle."
Pearson's shares were down 10% as of 9:38 a.m. in London, bringing their drop in the last 12 months to 40%, compared to an 11% gain in Britain's FTSE 100 Index. The stock touched its lowest since October 2008.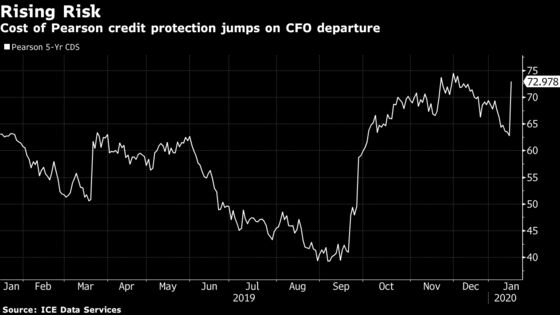 Fallon said the process to replace him is ongoing, with both internal and external candidates being considered.
The U.S. textbook slump has raised questions over his decision to sharpen Pearson's focus on education by selling other businesses including fiction publishing and news during his seven years in charge.
The continued slump in U.S. college courseware, which accounts for almost a quarter of Pearson's sales, shows the challenge for whoever succeeds him. Some analysts say the new CEO may slash prices to stem the drop.
The company said more than half of U.S. college students now prefer an ebook to a physical book and campus bookstores are buying less inventory.
What Bloomberg Intelligence Says:

"Pearson's lackluster 2020 revenue outlook suggests management is still unable to call the bottom in revenue-growth trends, with the speed and extent of print declines uncertain in a market moving faster than it expected."

--John Davies, BI analyst

Click here to read the research
Pearson said it expects to have earned 590 million pounds ($769 million) in adjusted operating profit last year, or 580 million pounds after adjusting for currency swings -- slightly above the 578 million pound average of 10 analyst estimates.
With other parts of the business such as testing and professional certification mostly growing, it forecast a wide range for 2020 adjusted operating profit -- from 500 million to 580 million pounds.
--With assistance from Kit Rees.
To contact the reporter on this story: Joe Mayes in London at jmayes9@bloomberg.net
To contact the editors responsible for this story: Rebecca Penty at rpenty@bloomberg.net, Thomas Pfeiffer, Jennifer Ryan