Parcel-Locker Firm InPost Soars After $3.4 Billion Dutch IPO
Parcel Locker Firm InPost's Holders Raise $3.4 Billion in IPO
(Bloomberg) -- InPost SA soared in Amsterdam trading after its shareholders raised 2.8 billion euros ($3.4 billion) in Europe's biggest initial public offering since 2018 amid an online shopping boom that's driving up demand for the Polish company's automated parcel lockers.
Stockholders including Advent International, Templeton Strategic Emerging Markets Fund and PZU Fundusz sold 175 million existing shares at 16 euros each, the top end of an initial range, the company said. The IPO of the 35% stake values InPost, which didn't raise any money in the offering, at 8 billion euros. InPost jumped 26% to 20.22 euros at 10:08 a.m. in Amsterdam.
InPost is joining other beneficiaries of stay-home orders in going public. Online retailers THG Plc and Allegro.eu SA listed in the U.K. and Poland, respectively, last year, while virtual greeting-card company Moonpig Group Plc is taking orders for its London IPO.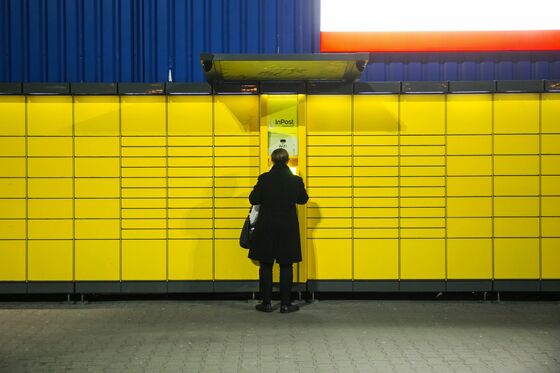 The InPost sale is the biggest debut on a European exchange since Knorr-Bremse AG, a German maker of truck and train brakes, raised $4.5 billion in October 2018, according to data compiled by Bloomberg. InPost, which chose Amsterdam to tap the city's pool of technology-focused investors, has ambitions beyond Poland.
"We have plans to expand and replicate our business from Poland to the U.K., France, Spain and Italy, and the expansion would be fully financed with our own resources and cash generation," Chief Executive Officer Rafal Brzoska said in an interview with Bloomberg TV.
The share sale has made a billionaire of Brzoska, who started InPost as a company distributing leaflets in 1999 when he was still a student. He holds a 12.2% stake via his foundation. The offering caps off a turnaround for the business, which nearly collapsed four year ago.
Customers can arrange the delivery and collection of parcels across InPost's network of self-service lockers. The company owned 12,254 automated parcel machines as of the end of 2020, handling 249 million deliveries through them. Advent acquired the business in 2017 as part of a push into the e-commerce market.
Rock-bottom interest rates and economic stimulus to offset the effects of the coronavirus outbreak have contributed to soaring equity indexes and heightened demand for new stocks, especially in Europe where large listings by technology firms have been in short supply. That's led to a flurry of IPOs in the first month of this year.
Last week, InPost gathered enough investor demand to cover all the shares being sold throughout the 14 euros to 16 euros price range within an hour and a half of opening up its IPO book. The company closed its order book two days earlier than planned, while shares were originally due to start trading on Friday.
Nearly a third of InPost's offering was taken up by cornerstone investors BlackRock Inc., Capital World Investors and Singaporean sovereign wealth fund GIC. If there's enough demand, banks have the option to sell another 26 million shares, which would increase the deal to 3.2 billion euros.
In the first nine months of 2020, InPost got 26.2% of its revenue from Allegro, and an additional 20.7% from merchants selling goods on its platform, according to the IPO prospectus, which cited that "substantial share" of revenue as a key risk for the company.
Citigroup Inc., Goldman Sachs Group Inc. and JPMorgan Chase & Co. are joint global coordinators. ABN Amro Bank NV, Barclays Bank Plc, BNP Paribas SA and Jefferies International Ltd. are joint bookrunners.