OPEC+ Surprise Sends Oil Past Gulf Budget-Balancing Levels
(Bloomberg) -- Oil soared past fiscal breakeven prices for the Middle East's four biggest producers after OPEC+ kept output largely unchanged and an attack on a highly protected Saudi Arabian oil facility.
The late Sunday attack on an oil storage tank farm sent the global crude benchmark above $70 a barrel, days after the shock move by the OPEC+ cartel sparked a rally.
If oil prices stay at current levels, "we would see fiscal surpluses for the larger Gulf Cooperation Council economies," said Monica Malik, chief economist at Abu Dhabi Commercial Bank. "This provides more fiscal space to support economic activity and recovery."
Analysts at Goldman Sachs Group Inc. and JPMorgan Chase & Co. raised their Brent price forecasts after the OPEC decision.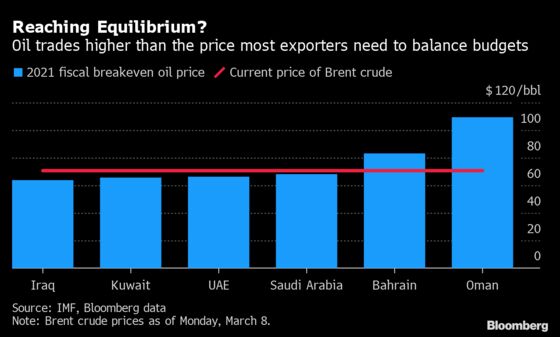 On Monday, Dubai-based lender Emirates NBD PJSC revised its average oil price upward to $67.50 per barrel this year, leading to narrower budget deficits, "assuming spending remains unchanged and governments continue to prioritize deficit reduction over boosting growth."
Budget deficits in the Arab Gulf, where economies are reliant on oil, widened after prices crashed in 2020. OPEC+ agreed last year to take about 10% of global supply off the market to stem the plunge. While the group has slowly rolled back some of those cuts, it is curtailing more than 7 million barrels of daily production.
Still, Brent prices have averaged just below $60 so far this year -- below the breakeven level for most Gulf countries. Saudi Arabia, the Arab world's largest economy and OPEC's biggest producer, has posted successive budget shortfalls in the past seven years, a trend the International Monetary Fund predicted would continue through 2024.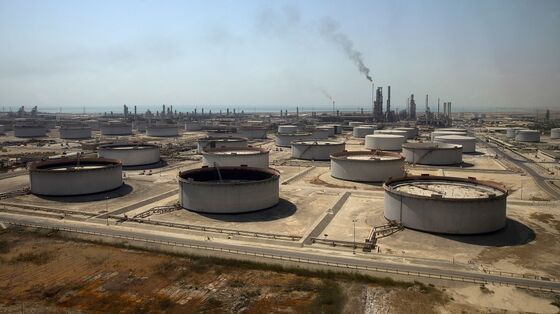 And the OPEC+ decision may be eroded.
"Compliance with OPEC restrictions may deteriorate, resulting in a smaller decline in average crude oil production this year relative to 2020," wrote Khatija Haque, head of research and chief economist at Emirates NBD. "OPEC+ may decide to increase production more aggressively later this year, and governments could choose to increase spending to support the economic recovery in the non-oil sectors this year."