Oil Edges Lower as OPEC+ Keeps Its Next Moves Close to Chest
Oil prices continue to see lack of directional cues ahead of OPEC+ meet.
(Bloomberg) -- Oil in New York fell slightly under $41 a barrel after the OPEC+ Joint Ministerial Monitoring Committee made no mention of any changes to a plan to further ease oil-output cuts from January.
Still, Saudi Oil Minister Prince Abdulaziz Bin Salman called on the OPEC+ alliance to be proactive in the face of uncertain demand, providing some reassurance for the market. Traders also are looking for signs that lawmakers in Washington can agree on a stimulus deal ahead of the election while a resurgence in the pandemic threatens any recovery.
"OPEC is already seeing prices down near $40 a barrel and that's a little lower for them, so they will likely err on the side of caution and keep at least some of those barrels off the market," said Gary Cunningham, a director at Tradition Energy. Still, "any barrels at all is detrimental to the equation at this point."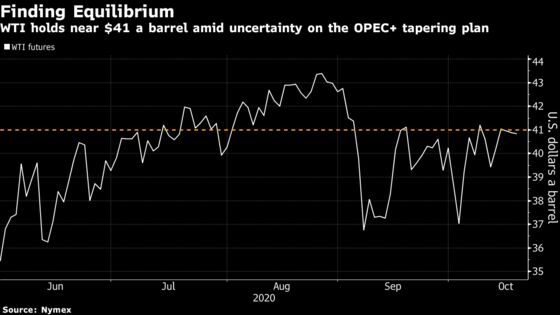 Oil ministers met against a backdrop of uneven oil demand. For months now, the recovery in consumption has been driven largely by China, whose economic expansion showed signs of broadening in September. Yet, other countries are still clawing their way out of the slump, with fresh outbreaks of Covid-19 in Europe and the U.S. weighing on energy use.
"If the world was more or less on one trajectory, oil markets, investors and OPEC itself could at least take cues from that," said Ryan Giannotto, director of research at GraniteShares. "But when you have a shattered market where every area of the economy is performing differently, that really complicates the picture."
In the meantime, Treasury Secretary Steven Mnuchin and House Speaker Nancy Pelosi were slated to discuss a stimulus deal Monday afternoon. However, the S&P 500 Index slipped as opposition to a sizable aid package hardened in the Republican-controlled Senate.
If market uncertainty persists through next month, OPEC+ will probably decide to bring back less supply than the planned 1.9 million barrels a day in January, Citigroup Inc. analyst Ed Morse wrote in a report. Meanwhile, Morningstar's Sandy Fielden said that the global and U.S. crude benchmarks may slip back to the $30 a barrel range if the economic recovery remains slow and producers don't cut output.
Prices
West Texas Intermediate for November delivery edged 5 cents to settle at $40.83 a barrel
Brent for December settlement fell 31 cents to end the session at $42.62 a barrel
Still, a pickup in U.S. airline traffic is providing some hope for distillate stockpiles, which despite consecutive drawdowns remain at their highest seasonal level since 2010. Over the weekend, U.S. air passengers exceeded 1 million for the first time since March, though the industry is still reeling from the pandemic-driven travel slump.
Crude's structure points toward underlying firmness in the market, with the spread between WTI's nearest contracts rallying to its narrowest contango structure in a month.
"It's hard to see a rally until we have definitive news on a Western vaccine," said Jay Hatfield, CEO at InfraCap in New York. "Until then, why would you want to get too long or too short oil?"
Other oil-market news:
ConocoPhillips's takeover of Concho Resources Inc. isn't just shaking up the U.S. shale industry -- it may have ramifications for the global oil market and the long-term price of crude.
Halliburton Co. expects the rout in North American shale to peter out after history's worst crude crash decimated many of its customers.
Saudi Aramco and Saudi Basic Industries Corp. will re-evaluate a planned $20 billion crude-to-chemicals plant as they seek to cut spending and as the oil company tries to preserve its dividend.
American Indian tribes have made their latest bid to halt operations on the Dakota Access pipeline, formally kicking off the latest round in legal ping-pong over the project's fate.