Oil Drops With Upcoming Refiner Maintenance a Warning for Demand
Oil was trading near $43 a barrel in New York on signs U.S. crude stockpiles extended declines for a sixth week, easing a glut.
(Bloomberg) -- Oil tumbled to the lowest level in more than three weeks with the expectation that refinery demand for crude will weaken in the fall and as investors sought refuge in a stronger dollar.
Futures in New York declined 2.9% on Wednesday. While a U.S. government report showed shrinking domestic crude and gasoline inventories, many refineries will soon halt operations to conduct maintenance. Such work is typically carried out in the fall to coincide with a downturn in summertime fuel consumption. It's a reminder to investors that both oil and gasoline demand, already depressed from a pandemic-driven lull in travel, may further weaken.
Meanwhile, the U.S. dollar rose the most in two weeks, reducing the appeal of commodities priced in the currency.
The dollar gaining strength is weighing on prices, but at the forefront is a looming dropoff in demand, said Tariq Zahir, managing member of the global macro program at Tyche Capital Advisors LLC. If the pandemic leads to school shutdowns and offices remaining closed, it's going to have a strong "impact on demand for gasoline going into the refinery maintenance season and the end of the year."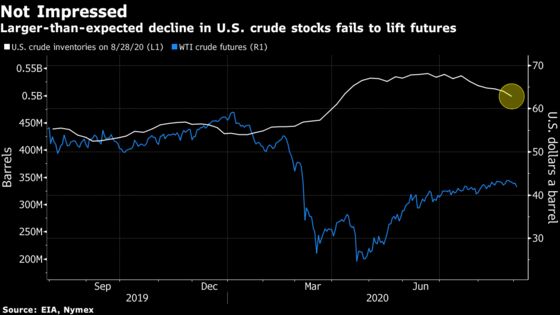 Although U.S. benchmark crude futures have rebounded from April's negative territory, price rallies remain limited amid uncertainty over when oil consumption will return to normal with virus cases spiking in new American hot spots like Iowa and South Dakota. Demand may also take a hit over September and October as Chinese imports ease with state-issued quotas for independent refiners dwindling following a crude-buying spree earlier this year.
In the U.S., an Energy Information Administration report showed crude stockpiles fell by more than 9 million barrels last week.
"Even with this draw, we have more than enough inventory to cover a poor demand picture," said Andrew Lebow, senior partner at Commodity Research Group. "We really need demand to step it up a lot coming up in the next few months in order to work off this inventory," which is unlikely as refineries start going into turnaround.
West Texas Intermediate crude for October delivery fell $1.25 to end the session at $41.51 a barrel

WTI's December 2020 contract closed at a $2.58 a barrel discount to its December 2021 contract, the deepest contango since June

The Bloomberg Dollar Spot Index rose as much as 0.5%
Brent for November settlement lost $1.15 to settle at $44.43 a barrel
Additionally, the refining margin for combined gasoline and diesel -- a rough measure for the profitability of processing a barrel of crude -- is at its lowest in nearly a decade for this time of year.
In the wake of weak profit margins, "the refiner has no financial incentive to come back to full production and run the refinery hot," said Bob Yawger, director of the futures division at Mizuho Securities USA.
EIA report highlights:
Gasoline inventories dropped by 4.32 million barrels
Refinery utilization rates tumbled to 76.7%, the lowest since June, in part because of plant shutdowns due to Hurricane Laura
Total products demand fell to 16.98 million barrels a day, the lowest in 13 weeks
Yet, it's important to keep in mind that this week's EIA report is also the first to take into account the impact from Hurricane Laura last week, such as declining oil output. U.S. production fell below 10 million barrels a day for the first time since 2018.
"That lower production was a lion's share of the reason we saw the larger crude oil draw than was anticipated," said Brian Kessens, a portfolio manager at Tortoise.
Other market stories:
Iraq said it may seek a two month extension to implement the extra production cuts it's carrying as part of the OPEC+ deal, suggesting that Baghdad wouldn't be able to reduce its output as quickly as it previously promised.
Tens of thousands of Saudi Aramco employees are going back to their offices and oil fields after weathering the coronavirus -- and one of the energy industry's most turbulent periods -- at home.
Liberty Oilfield Services Inc., which will become North America's second-biggest fracking provider with the acquisition of a Schlumberger unit, expects to one day topple Halliburton Co. from the No. 1 spot.