Oil Majors May Be Stuck in Russia Despite Exit Plans, Says Total
Oil Majors May Be Stuck in Russia Despite Exit Plans, Says Total
U.S. and U.K. oil majors such as Shell Plc and BP Plc may be stuck with their Russian assets despite saying that they will leave the country to protest the invasion of Ukraine, said TotalEnergies SE Chief Executive Officer Patrick Pouyanne.
"Everybody's telling me that my Anglo-Saxon competitors are leaving," Pouyanne said on RTL radio on Wednesday. "None of my competitors has left Russia, and knows how to leave Russia."
Shell and BP have said they will quit Russia altogether, but so far haven't come up with concrete steps on how they will achieve that. Unlike its peers, TotalEnergies has said it would keep its stakes in companies and hydrocarbon projects in the country, rejecting criticisms from Greenpeace and the Church of England.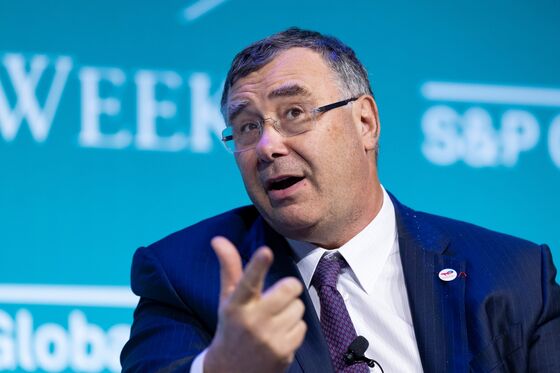 TotalEnergies owns 19.4% of Novatek PJSC, Russia's top producer of liquefied natural gas. It also has stakes in the Yamal LNG plant, the Arctic LNG 2 project that's still under construction, as well as interests in other oil and gas fields. The French company said on Tuesday that it will halt further investment in the Arctic LNG 2 development.
Altogether, it has invested almost $13 billion in those Russian plants, and has no plan to sell them, Pouyanne told RTL.
"These plants will continue to work, whether I leave or not. If I pull out, I'll give $13 billion to Russian for zero, because nobody wants to buy these plants today," Pouyanne said. "Do you want me to abandon assets in Russia to enrich Russians whom we have placed under sanctions? I won't give in to it, because that's demagogy."
TotalEnergies will stop buying Russian crude and diesel by the end of the year, when its contracts expire. When it comes to long-term gas contracts, halting purchases unilaterally would mean Total would have to pay billions of dollars in damages to Russian counterparties, unless they are placed under government sanctions, Pouyanne said.