Oil Slides Most in a Month on Grim Economic Signals
(Bloomberg) -- Oil cratered the most in more than a month after data showed the U.S. economy had its worst contraction on record, with demand expected to languish as millions of Americans remain out of work.
U.S. benchmark crude futures tumbled 3.3%, closing at the lowest level in three weeks. Equities in the U.S., Europe and Asia weakened, with the S&P 500 Index spiraling lower by as much as 1.7%.
Government data showed the U.S. economy suffered its sharpest downturn since at least the 1940s in the second quarter, pointing to how the coronavirus pandemic has devastated businesses across the country. In a further signal of the economic pain, the number of Americans filing for unemployment benefits increased for a second straight week. Elsewhere, Germany's economy shrank the most in at least half a century in the second quarter.
"The slew of very worrying economic data overnight and this morning is really weighing on the complex," said John Kilduff, a partner at Again Capital LLC. The gross domestic product declines in Germany and the U.S. "does not bode well for gasoline demand."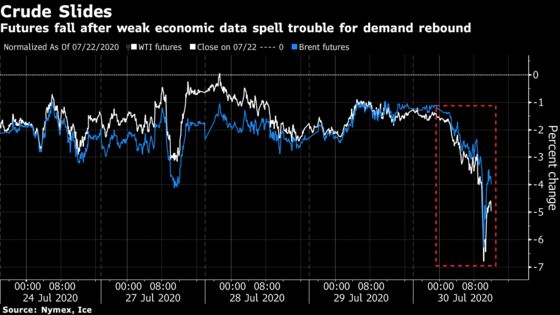 Futures in New York have been trading around $40 a barrel since early June with market volatility depressed as a resurgent coronavirus pandemic continues to sour the outlook for a steady demand recovery. Royal Dutch Shell Plc Chief Executive Officer Ben van Beurden said oil demand may not see a full recovery until next year.
On the supply side, OPEC+ alliance is days away from unleashing crude back onto the market following historic output cuts, and in the U.S., ConocoPhillips is the latest explorer to announce it's bringing back oil production as prices climb from historic lows back in April. Shale producers Continental Resources Inc., Parsley Energy Inc. and EOG Resources Inc. have said they would restore some curtailed output in July.
Prices
West Texas Intermediate for September delivery fell $1.35 to settle at $39.92 a barrel

The WTI prompt spread is at its largest contango structure since June, signaling concern about oversupply

Brent for September settlement declined 81 cents to end the session at $42.94 a barrel
Meanwhile, U.S. President Donald Trump raised the notion of delaying the Nov. 3 election until after the pandemic eases, though he lacks the authority to do so without the consent of lawmakers who have already rejected the idea.
"It didn't help that Trump tweeted out that maybe we should delay the election," said Tariq Zahir, managing member of the global macro program at Tyche Capital Advisors LLC. In combination with the weak economic data points, it "started the whole day off with a risk-off attitude."
Virus relief talks in U.S. Congress could ease negative sentiment. Senate Republicans moved forward with a plan to set up votes on extending lapsed supplemental unemployment insurance as talks on a broader relief package were at a standstill.
"It does seem like we're kind of settling into a new normal around this $40 a barrel area," said Phil Flynn, senior market analyst at Price Futures Group Inc. "To get out of this trading range, to get back up to the higher mid-40s again, it's probably going to take another shot of stimulus."
Other oil-market news
For the first time since the oil price recovery started three months ago, Saudi Arabia and other top Middle East producers are coming under heavy pressure to cut the price of their barrels, a sign of how the rally has begun to stall.
Shale explorers Concho Resources Inc., WPX Energy Inc. and QEP Resources Inc. signaled a grim second half for the U.S. oil patch just hours after President Donald Trump arrived in the Permian Basin championing "American energy dominance."
Adnoc, the UAE state-owned producer, may cut the official selling price of its flagship Murban crude by 90 cents a barrel for September sales, according to the median estimate in a Bloomberg survey of traders.
The Trump administration will allow the existing Keystone pipeline to carry more oil-sands crude into the Midwest and U.S. Gulf Coast while the conduit's decade-old expansion project faces renewed legal hurdles.