Digital Bank Founder Worth $6 Billion to Donate Most of Fortune
Digital Bank Founder Worth $6 Billion to Donate Most of Fortune
(Bloomberg) -- The founder of the world's biggest standalone digital bank has signed the Giving Pledge, a promise to donate most of a vast fortune to help solve social issues.
Nubank's David Velez and his wife, Mariel Reyes, committed to give most of their wealth to philanthropy, the couple said in a statement. Velez, 39, owns a stake worth about $6 billion in Nubank, according to a person with knowledge of the matter, who asked not to be identified because the figures aren't public. Velez declined to comment on his net worth.
The Giving Pledge was started in 2010 by Warren Buffett, Bill Gates and his then wife Melinda French Gates to urge the ultra-rich to give more to charity. More than 200 people have signed on, including Mark Zuckerberg and Priscilla Chan, MacKenzie Scott, Ray and Barbara Dalio, Larry Ellison and Reid Hoffman. While it's attracted billionaires from the U.S., Europe and Asia, only Brazilian real estate tycoon Elie Horn and his wife Susy have joined from Latin America.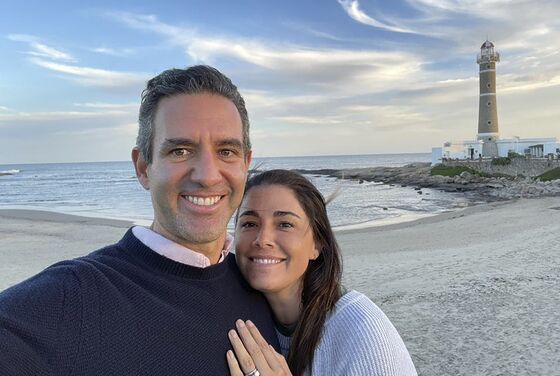 "I'm hoping this is a nascent but growing trend in Latin America," Velez said in an interview. "I think older generations didn't really see this as a path, they were more focused on building dynasties and passing it to their kids, but I think that's changing with the younger generations."
The couple has three children and is expecting a fourth. "We think it's a disservice to your kids leaving them a lot of wealth," Velez said.
Velez founded Nu Pagamentos SA, as Nubank is formally known, in 2013 after working in private equity. The goal was to offer Latin Americans access to cheaper and less bureaucratic financial products, starting with credit cards. Nubank has since grown to more than 40 million customers and was recently valued at $30 billion in a fundraising that included Buffett's Berkshire Hathaway Inc.
Though Velez was born in Colombia and Reyes in Peru, they met in Brazil through mutual friends. She used to work at the World Bank's private lending arm, the International Finance Corp. They're now planning to create a "family philanthropic platform" focusing on Latin American children and young adults, with the goal of giving them access to better education and leadership opportunities, according to Reyes.
Reyes, 41, wants to lure money from big charitable foundations around the world to co-invest in their projects. She currently heads a non-governmental organization that trains poor women in computer programming.
"We really want to disrupt the philanthropic scene in Latin America, following the idea of what Nubank did in fintech," Reyes said.