Nickel Surges to Highest in Seven Years as Supply Dwindles
Nickel Surges to Highest in Seven Years as Supply Dwindles
(Bloomberg) -- Nickel surged to a seven-year high in London amid concerns that there'll be less supply of the key industrial metal to meet resilient demand from economies reopening as the pandemic retreats.
Vale SA, one of the top nickel producers, cut its production guidance for this year due to a strike at its Canadian mine, while the world's largest refined nickel producer, MMC Norilsk Nickel PJSC, reported lower output in the third quarter. The Philippines, the second-largest producer of the metal used in kitchenware and electric car batteries, said output this year may be 10% less than the annual average, hampered by more frequent rains and fewer vessels coming in.
Nickel for three-month delivery on the London Metal Exchange settled 4.6% higher at $20,963 a metric ton as of 5:53 p.m. local time, the highest since May 2014.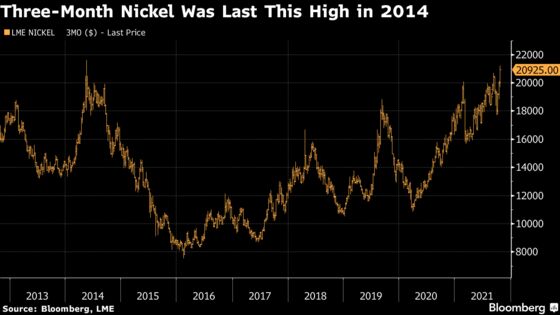 "Buying filtered in over the course of today's session on the back of supply-side stress ranging from Vale reduced production guidance, Norilsk's weaker production report, and Vale's Brazilian mine stoppage at Onca Puma," Michael Cuoco, head of hedge-fund sales for metals and bulk materials at StoneX Group.
Prices were also helped by China's softer nickel pig iron and refined nickel output figures for September and the return of Indonesian political export noise and adverse weather in the Philippines, he said. Nickel pig iron is a cheap substitute for refined nickel, which is used to make stainless steel -- the largest end-use of nickel. 
Vale's nickel output will likely reach 165,000 to 170,000 tons this year, down from a previous projection of 200,000 tons, the company said Tuesday. That came a day after the Brazilian mining giant said its Onca Puma mine is again suspended by court.
Nickel production at Nornickel fell 23% to 129,858 tons in the first three quarters from the same period a year earlier, according to a statement.
The prospect of lower supplies comes as stainless steel demand improved in recent months, with aerospace and oil-and-gas industries rebounding from last year's Covid-19 nadir. Ongoing logistics woes from the pandemic, with shipping jams in the Atlantic, Pacific and Indian basins, make it more difficult for consumers to get raw materials such as nickel.
Expectations that there'll be less nickel ores from top supplier Indonesia are also helping the price rally. The Southeast Asian nation indicated last month that it plans to either ban or tax exports of semi-processed products used to make stainless steel to keep more of the metal in the country and support a domestic industry focused on electric-vehicle batteries.
Indonesia has been known to reverse its own policies since the first export ban on unprocessed mineral products in 2014, BloombergNEF analyst Allan Ray Restauro said in a note. Exports were permitted again in 2017, but only to companies with operational smelters. The ban on exports was then brought forward two years early to 2020.
BloombergNEF expects the nickel price to remain elevated above $18,000 a ton, although it will continue to underperform copper and aluminum.