Nickel Nears Seven-Year High With Metals Rising on Demand Bets
Nickel Nears Seven-Year High With Metals Rising on Demand Bets
(Bloomberg) -- Nickel rose for a third straight session, approaching a seven-year high on booming demand for the metal used in stainless steel and electric-vehicle batteries. Copper advanced the most in more than two months.
Nickel gained as much as 2.1% to $19,780 a ton. It reached $20,110 in February, the highest since 2014. Declines in inventories and the dollar also lifted prices Monday. Most main metals traded in London rose, while spot gold was little changed as traders awaited a Federal Reserve meeting this week.
Investors are looking past concerns over the resurgent coronavirus on bets that miners reporting earnings this week will highlight drivers such as renewable energy and recovering economies. Demand is climbing in the stainless-steel industry, which accounts for about 70% of nickel end-use. Last week, Tesla Inc. struck a nickel-supply deal with BHP Group, as the electric-car maker seeks to protect itself from a future supply crunch.
"What's really been driving nickel in the past few weeks is the strength of the stainless market," Tom Mulqueen, head of research at Amalgamated Metal Trading, said by phone from London. "In the near term, the fundamentals are looking pretty solid, but on the macro side things are feeling a little bit less risky as well."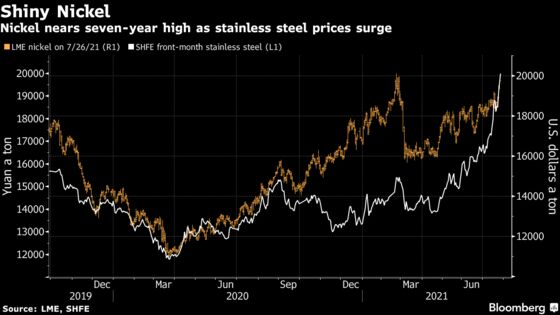 Nickel rose 1.8% to settle at $19,717 a ton at 5:53 p.m. in London. Copper climbed 3.1% to $9,809.50 a ton, the biggest gain since May 7.
Copper was helped by reduced demand displacement from secondary materials from Malaysia, a key supplier of scrap copper to top consumer China, according to Wenyu Yao, senior commodities strategist at ING Bank. Meanwhile, there is an inventory drawdown in the physical market, and a key indicator of China's import appetite, the Yangshan copper premium, is rebounding in another sign of a pickup in demand, she said.
Goldman Sachs analysts including Nicholas Snowdon reiterated their bullish copper price targets of $10,500, $11,000, and $11,500 in the next three, six and 12 months, citing tightness in the refined and concentrate markets. Their bullish outlook on the metal also stems from stricter policy announcements regarding EV adoption from the European Union, they said in a note.
Spot gold fell 0.3% to $1,797.09 an ounce, while platinum rose and palladium fell. Spot silver was little changed.