NBA Taps Money Manager for New Way to Buy Stakes in Teams
(Bloomberg) -- Neuberger Berman's Dyal Capital Partners is raising money for a fund that will invest in National Basketball Association teams, part of a growing effort by owners to capitalize on the soaring valuation of pro-sports organizations.
Dyal, known as the biggest business of its kind to take stakes in private equity firms, was tapped by the NBA to acquire interests in teams, according to people familiar with the matter who asked not to be identified because the arrangement is private. The firm plans to hire sports investing professionals to aid the effort, but it's unclear how much money it will seek to raise.
With franchise values skyrocketing in recent years, the NBA wants to expand team ownership to include a broader array of investors. The high price of a typical team has made it harder for current investors to unload their stakes, so the league is getting more flexible. The basketball association told managers last year that it could create an investment vehicle that would buy such minority shares.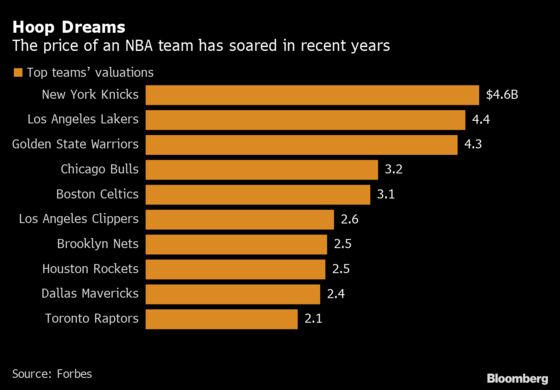 The coronavirus pandemic -- and resulting blackout of live sports -- also may have put pressure on some owners to sell stakes in teams.
Dyal is known for taking stakes in private equity firms such as Silver Lake and Vista Equity Partners. The business -- run by Michael Rees and Sean Ward -- has expanded to $23 billion in assets and has also taken stakes in hedge fund and real estate firms. It raised its fourth and largest fund at $9 billion last year, and counts Goldman Sachs Group Inc. and Blackstone Group Inc. as rivals.
"While we can't comment on any particular investment vehicles, we are truly thrilled to have been selected by the NBA," Rees said in a statement. "We're grateful for the unanimous vote of the 30 team owners to give us this opportunity to be the only institutional investor eligible to pursue this strategy in partnership with the league."
A representative for the NBA declined to comment.
The price tag for an NBA team ranges from $1 billion to $4.6 billion -- with the most expensive team being the New York Knicks, according to Forbes analysis. That means even a 5% stake could easily be $100 million for a typical team.
Dyal may eventually apply the strategy to different sports leagues globally. Rees cited similarities between investing in the private equity industry and in sports teams. That includes using private capital -- rather than listing stock publicly -- to raise funds.
More finance titans have been buying into teams. The NBA's Milwaukee Bucks count Avenue Capital's Marc Lasry, York Capital Management founder Jamie Dinan and Fortress Investment Group's Wes Edens as owners. Apollo Global Management Inc. co-founder Josh Harris and Blackstone Group Inc. executive David Blitzer co-own the Philadelphia 76ers. Many other financiers own basketball and hockey leagues as well.
Allowing more sales of partial stakes could mark a shift for the NBA, where limited partners typically have found it difficult to find buyers to take smaller interests that don't come with oversight of team governance. But investors have long been drawn to buying stakes for novelty. Major League Baseball also has been looking to attract a broader array of investors through minority stake sales.
"We believe strongly that to be a long-term strategic partner you need to have long-term capital," Dyal's Ward said in a statement. "You never want to have to be a forced seller due to reaching the end of an arbitrary fund term."