Investors Embrace NCSoft's NFT-Based Videogame Plan
Investors Embrace NCSoft's NFT-Based Videogame Plan
(Bloomberg) -- NCSoft Corp. shares surged by their daily limit as excitement over the South Korean gamemaker's new title based on non-fungible tokens outweighed concerns over a third-quarter earnings miss.
Investors cheered the Lineage developer's plan to launch an NFT-based title for next year, boosting its stock a record 30% to the highest level since August. A block of 66,707 shares, equivalent to 0.5% of float, traded in the afternoon. The stock initially opened lower after quarterly results missed expectations.
"Earnings did not have much impact," said Kim Hyungyong, an analyst at Hyundai Motor Securities Co. "Expectations that NCSoft will launch an NFT-based game title using its Lineage series sent its stock high."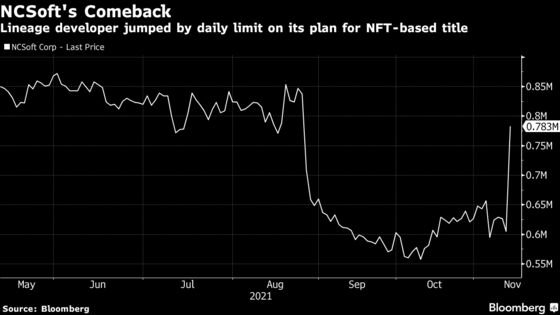 NCSoft's surge came as a relief to investors who had been burned by the stock's plunge of almost 50% from its peak in February to a seven-month low in October due to disappointment over its new titles.
"Expansion into NFT-based games, albeit in the early days, bodes well for long-term growth," wrote Bloomberg Intelligence analysts Nathan Naidu and Matthew Kanterman in a report.