Meta's Jump Accounts for One-Third of Nasdaq 100 Futures Gains
(Bloomberg) -- Facebook parent Meta Platforms Inc. is fueling gains in Nasdaq 100 futures as it surged in premarket trading after the social network added more users than projected.
Nasdaq 100 futures climbed 2.2% as of 4:07 a.m. in New York, halting a two-day decline. S&P 500 futures rose 1.5% and Dow Jones futures added 0.9%. China's pledge to support its economy and promote the growth of internet platform firms also boosted equities globally.
Shares of Meta Platforms jumped as much as 19% in U.S. premarket trading after Facebook's main social network added more users than projected in the first quarter. Meta has a 3% weighting in the Nasdaq 100 and a 1.1% weighting in the S&P 500. The move accounts for about one-third of the total Nasdaq futures gains today, according to Bloomberg calculations. 
"The release of Meta Platforms' earnings provided some form of relief," Jun Rong Yeap, a strategist at IG Asia Pte, wrote in a note. "For the S&P 500, the index is attempting to hold up above the 4,140 level but overall sentiment may still lean toward some cautiousness."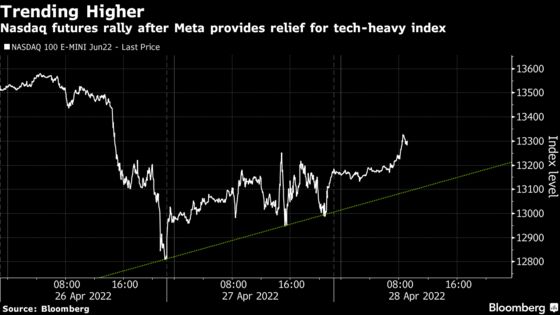 The Nasdaq 100 is set for a 12% loss this month, its worst performance since October 2008 during the global financial crisis. Technology shares have been under particular pressure this year on the risks from rising rates amid a hawkish shift in the Federal Reserve's monetary policy. Concerns about future profit growth of expensive tech companies increased after results from Netflix Inc. and Alphabet Inc. disappointed. 
"Nasdaq earnings and a subset of that really reflect a broader picture in earnings, which is that earnings actually have been coming through in general pretty positive, also for tech stocks, of course with certain exceptions." said Columbia Threadneedle's global equity portfolio manager Natasha Ebtehadj on Bloomberg TV. "In general the attitude coming into earnings was quite negative on the downside."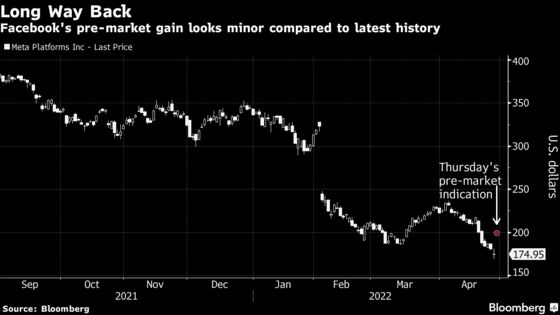 The S&P 500 is poised for a 7.7% drop in April, the biggest since March 2020 when Covid-19 lockdowns started.