Generic-Drug Firms Gain as Mylan-Pfizer Deal Sparks Optimism
Generic-Drug Firms Gain as Mylan-Pfizer Deal Sparks Optimism
(Bloomberg) -- Mylan NV's plans to combine with Pfizer Inc.'s off-patent unit was viewed by analysts as a much-needed jolt for the generic-drug industry as it contends with issues ranging from the opioid crisis to pricing pressures.
"This should bring positive read to the generic sector and questions around potential for similar deals," RBC Capital Markets analyst Randall Stanicky wrote in a note to clients. The tie-up, which follows AbbVie Inc.'s move to buy Allergan Plc for $63 billion, presents an opportunity to highlight other highly levered generic companies with depressed valuations, he said.
Shares of Endo International Plc and Teva Pharmaceutical Industries Ltd. rallied. The Bloomberg Intelligence Global Specialty-Generic Pharma Competitive Peers index jumped as much as 5%, its biggest gain in a month. The index is still down 18% this year, compared to a 6.4% rise for the S&P 500 Health Care Index.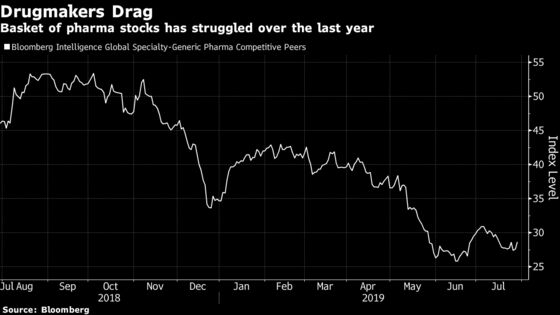 Mylan jumped as much as 19%, the most intraday since Nov. 6, while Pfizer shares dipped 3.1% to the lowest level since June 3.
Here's what Wall Street is saying about the deal:
RBC Capital Markets, Randall Stanicky
"As most of pharma continues to move up the innovation curve there could be more deals to spin out legacy assets. Our thought is that this could potentially offer opportunity to other highly levered generic players with depressed equity valuations."
RBC believes that generic deals "remain difficult given FTC scrutiny and there is broad desire by most management teams to diversify beyond US generics but opioid litigation uncertainty is still a consideration."
Likes the concept of the deal for Mylan holders and sees potential for upside.
Rates Mylan outperform, price target $24.
Deal reaffirms stance on the difficult generic drugs environment, where manufacturers are feeling pressures amid intense competition.
"This announcement proposes an idea that perhaps strategic mergers are one tactic to combat industry pressures, as larger, more cohesive entities are likely better suited to deal with ongoing structural disadvantages in the" generic space.
Rates Mylan overweight, price target $26.
Combination makes sense as the merger would create a leading company with one of the potential bright spots, including Mylan's biosimilar pipeline, which is starting to make inroads. Highlights Mylan's heavily discounted valuation that suggested a near-term trough.
Rates Mylan buy, $35 price target.
"Deal comes at a logical juncture for both companies, allowing PFE to exit its established" unit, which weighed on growth while Mylan can "recast its story, change its business model," and address its governance.
"We also expect the combined independent company could execute steps that are tough under the current structures."
Raymond James, Elliot Wilbur
"Combination with Pfizer legacy Upjohn assets would inject high-margin, high cash flow, durable and growing revenue streams into MYL's global generics platform at a time when we believe a booster shot is badly needed to stem MYL's equity decay."
Highlights that potential negatives of the deal relate to the "big bet" on Lyrica, Lipitor and Norvasc, which account for 40% of the Pfizer's portfolio sales.
Mylan is "giving up 60% of everything management has built over 60 years for what in essence appears to be a medium duration rescue package."
Rates Mylan outperform, price target $31.
What Bloomberg Intelligence Says:

The tie-up "could cure many ailments with one remedy." "A new management team, significant cash generation, diversification and a solid pipeline in complex generics, coupled with cost synergies to reduce debt, could be the solution to long-term problems for both."

-- Curt Wanek, biotech & pharma industry analyst

-- Sam Fazeli, Senior pharma industry analyst

-- Click here for the research
To contact the reporter on this story: Bailey Lipschultz in New York at blipschultz@bloomberg.net
To contact the editors responsible for this story: Catherine Larkin at clarkin4@bloomberg.net, Steven Fromm, Jennifer Bissell-Linsk