Mexico Eyes Options Beyond Pemex for $7 Billion Fund Purchase
Mexico Eyes Options Beyond Pemex for $7 Billion Fund Purchase
(Bloomberg) -- Mexico's government is considering using the $7 billion of international reserves it bought from the central bank this month for purposes other than prepaying debt of the nation's oil giant Pemex, according to three people with knowledge of the matter. 
Mexico purchased the reserves the same week President Andres Manuel Lopez Obrador said his administration had begun a process to refinance expensive public debt, with his spokesman saying that he was referring to debt owned by Petroleos Mexicanos, as Pemex is known. The move was the latest twist in an attempt by Lopez Obrador to aid the state-owned company, which is the world's most indebted oil major.
Yet the funds may not go to Pemex at all, according to three people with knowledge of the matter, who asked not to be named because the issue isn't public. Two said Mexico bought the dollars to make upcoming sovereign debt payments. A third said that while the funds may be used to buy back Pemex debt in the end, there are other possibilities currently under analysis, without elaborating.
Mexico's presidency declined to comment.
Pemex bonds leaped after the president on Sept. 6 began talking up his refinancing plans for the company, likely making the operation itself more expensive. They spiked again after the reserves purchase announcement last week.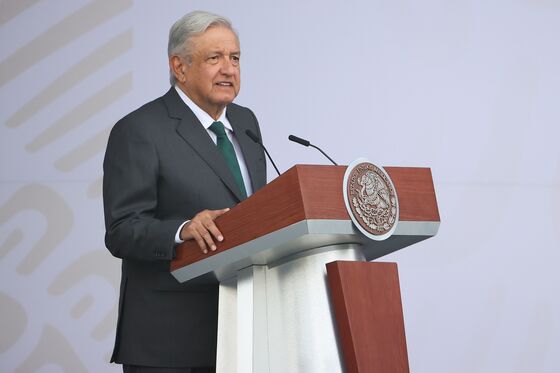 Read More: Mexican President Talks Up the Very Bonds He Plans to Buy
The $7 billion were purchased with the government's own resources and no debt sales were needed to implement the deal, one of the people said. 
Pemex's bond rally isn't the first snag to hit Lopez Obrador's refinancing ideas. Originally, the president said Mexico could use $12 billion transferred to the central bank by the International Monetary Fund to pay down Mexico's most costly debt. The main problem: the central bank says its rules prevent the government from legally using the funds without purchasing them directly.
Finance Minister Rogelio Ramirez de la O said in an interview this month that any debt repayment plan would take time to implement.