Ben Melkman Sees 'Glory Days' for Macro Traders in Post-Virus World
(Bloomberg) -- Macro fund manager Ben Melkman looks into the post-pandemic future and sees enormous shifts upending the decade-long dominance of U.S. assets and the dollar.
"The U.S. equity market outperformed everything by vast magnitudes, U.S. credit saw unbelievable inflows, U.S. private equity, U.S. venture capital, U.S. real estate and the U.S. bond market, and that all drove the dollar to very, very elevated levels," Melkman, a former Brevan Howard Asset Management partner who now runs about $1 billion at Light Sky Macro, said in a Bloomberg "Front Row" interview. "In this environment, I can absolutely see many parts, if not all of that, reversing."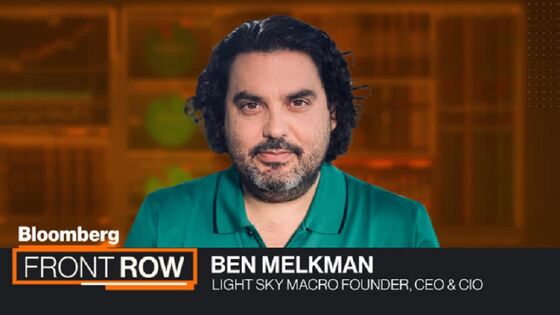 Vaccine or no vaccine, Melkman thinks the world has entered an era where stocks and bonds will produce negligible or even negative returns and the dollar surrenders its hegemonic role. It's a world of permanently low interest rates, huge deficits, sluggish growth, resurgent inflation, and declining U.S. power and influence.
It's a world in which gold, commodities and non-U.S. currencies outperform, in which foreign-exchange rates swing wildly and central banks are subservient to elected officials. It's a world in which the macro trader is once again king of Wall Street.
"This is going back to the glory days," Melkman said. "This is major policy mistakes, environments where policy makers cannot control the outcomes."
That would be a major departure from the past decade, when a steady drip of central bank liquidity propped up asset prices and suppressed market volatility. Macro hedge funds struggled, gaining an average of less than 1% a year.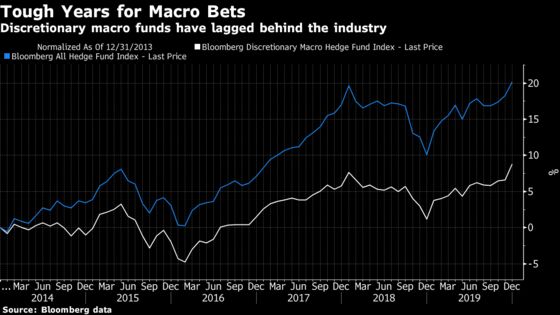 Melkman, living up to his reputation for big ideas and outsized enthusiasm, has no time for tropes like "Don't fight the Fed." In his view, the pandemic unleashed a tsunami of economic and social forces that swept away almost 40 years of monetary orthodoxy.
Because governments had to mobilize trillions of dollars in stimulus to stabilize asset prices and make up for lost output and income, they're now trapped into spending as much or possibly more in the future to keep growth from imploding. With deficits that large, interest rates will be frozen at zero and money-printing to absorb all the newly issued debt will evolve from a crisis-fighting tool into everyday practice.
"Central bank independence? Gone. Gone!" Melkman said. "All of a sudden, the rebuilding of the deficits, the necessary fiscal expenditure that Covid created, has relegated central banks back to their job pre-1980s, which is to essentially monetize the deficits of government."
Melkman, a 41-year-old Australian who went to high school in the U.S. and university in the U.K., got his start on Morgan Stanley's London currency desk in the mid 2000s. He then worked at Brevan Howard for seven years before leaving in 2016 to start Light Sky. Normally based in Manhattan, he recently moved into a waterfront summer rental on Long Island to escape the city and the virus.
After stumbling during the March selloff, Melkman rebounded in the second quarter with a gain of 12%. Through July, Light Sky was up 2.5%, trailing the 3.9% gain in the Bloomberg Discretionary Macro Hedge Fund Index. While Light Sky had a standout 2019, up 18%, some of Melkman's macro rivals have outperformed him more recently.
Read more: Brevan Howard, Caxton Gains Defy Macro Hedge Funds' Virus Gloom
In Melkman's scenario, policy makers lose the ability to regulate the pace of growth, inflation and foreign-exchange levels, and markets take charge. The Federal Reserve is effectively impotent, the U.S. no longer has a growth advantage and the dollar keeps weakening as China ascends and Europe unites behind its new fiscal integration.
Eventually, the combination is enough to create a new threat: inflation.
"Not only have we really pressed the gas on the monetary side, but we've seen it unified in the fiscal side," Melkman said. "That feels very 1970s and that feels very dangerous, and even though that might not create inflation in the next six, 12, 18 months, that is a very different structural environment than we've been in in the last decade."
Melkman points to Japan in 2013 as an example of the market volatility and trading opportunities he envisions in the years ahead. That's when the Nikkei 225 stock index surged almost 57% and the yen gained 21% on the dollar.
In the "glory days" of macro, the '80s and '90s, traders such as George Soros, Stanley Druckenmiller, Bruce Kovner, Paul Tudor Jones and Louis Bacon regularly had years with 20% and 30% returns. Melkman said that's "absolutely" possible again.
"You're talking about very big moves in very liquid products with very liquid options markets, meaning the magnitude of P&L you can take out of these markets would certainly make things like 20s and 30s very achievable," he said.