Medieval Fantasy Warrior Is Key to 21,000% Stock Gain in Decade
A lone medieval warrior fighting supernatural beasts has paved the way for Europe's biggest stock success of the past decade.
Poland's CD Projekt SA, maker of the Witcher role-playing computer game, has posted a return of 21,000% since the end of 2009, the biggest jump by far of any stock currently listed in the Stoxx Europe 600 Index.
While shares in the independent game studio have surged since its 2015 release of Witcher 3, a game based on cult fantasy novels about a medieval fighter, the real test is coming up next year, with the release of its new title, Cyberpunk 2077.
CD Projekt's approach of focusing on one title at a time, unlike peers Activision Blizzard Inc. and Electronic Arts Inc., has raised the stakes for the April release. An 86% rally this year alone, which has pushed the company's market valuation to $6.8 billion, reflects high investor expectations. Analysts estimate that the company's revenue may soar to $845 million, four times higher than in record 2015.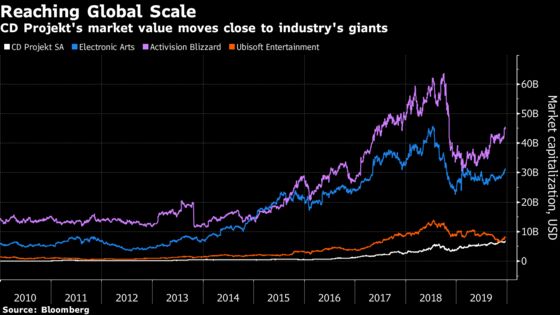 Cyberpunk, a story set in an urban-dystopian futuristic environment, is expected by the company to have a broader reach than its medieval-fantasy predecessor. CD Projekt's most expensive production so far will test the limits of current consoles, before new devices are introduced by Sony Corp. and Microsoft Corp. in the coming years.
The company's shares have surged even amid woes for its home market: Poland's WIG 20 Index has fallen 11% in the past decade, while the broader Stoxx 600 has climbed 65%.
To contact the reporter on this story: Konrad Krasuski in Warsaw at kkrasuski@bloomberg.net
To contact the editors responsible for this story: Blaise Robinson at brobinson58@bloomberg.net, Namitha Jagadeesh, Jon Menon