Man Group Assets Hit Record With Boost From Market Gains
(Bloomberg) -- Man Group Plc funds swelled to a record in the second quarter boosted by performance gains and as investors poured in more money.
The world's largest publicly traded hedge fund firm attracted $600 million in the three months through June, according to a statement Wednesday. That's well behind analyst expectations but assets increased beyond forecasts because of $6 billion in performance gains.
"The firm's momentum continues as we enter the second half, supported by strong performance fee optionality, a high level of client engagement and a strong sales pipeline," Chief Executive Officer Luke Ellis said in the statement.
Hedge funds are luring more clients after logging their best performance in more than a decade last year in a reversal of fortunes from previous years. The industry as a whole has seen assets swell to a record $3.96 trillion, according to Hedge Fund Research Inc.
Assets under management at Man Group, which is seen as a barometer for the industry because of its wide range of strategies, increased to 135.3 billion. Analysts forecast the firm would collect a net $1.8 billion during the three months and manage $133.8 billion at the end of June, according company-compiled estimates.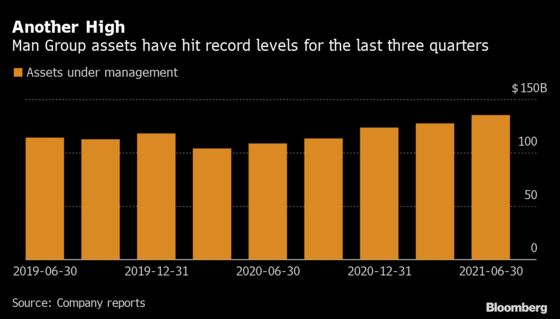 The firm's performance gains were driven almost equally between its alternative and long-only investment products during the second quarter. All of its four main computer-driven hedge funds made money during the period, with AHL Evolution leading with gains of 9%.
Man Group plans to repurchase an additional $100 million of its shares, according to the statement. The hedge fund firm earned $323 million in core profit before tax in the first six months of the year, beating estimates of $248 million.