Ex-Goldman Duo's Fund to Shut After Volatility Bets Go Awry
Ex-Goldman Duo's Fund to Shut After Volatility Bets Go Awry
(Bloomberg) -- A hedge fund founded by former Goldman Sachs Group Inc. traders to wager on volatility in stock prices is winding down after the recent market turmoil.
Malachite Capital Management, a New York-based firm that oversees about $600 million, plans to dissolve its funds, the firm said in a statement Tuesday, citing extreme adverse market conditions of recent weeks. The firm, founded by ex-Goldman Sachs traders Jacob Weinig and Joe Aiken, had received margin calls from counterparties including BNP Paribas SA after its trades went awry, people familiar with the matter said.
Malachite had wagered on volatility in stock markets, a bet that came undone as the spreading coronavirus caused shares to plunge worldwide, the people said. The illness, which has killed thousands and threatens a global economic recession, has triggered historic swings in asset prices that have tripped up some of the world's largest investment firms.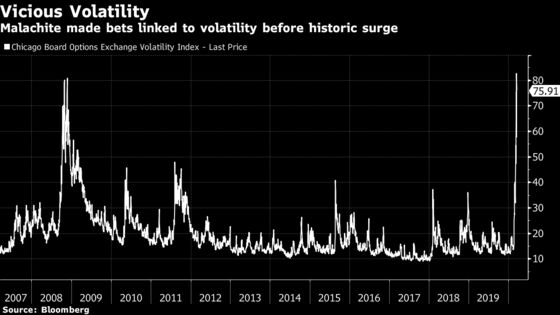 "Due to the extreme adverse market conditions of recent weeks and the resultant funds' performance, the current and projected assets will not justify or support the current structure of the funds," Weinig and Aiken said in an emailed statement. "It is in the best interests of the funds and their investors to dissolve the funds immediately pursuant to their governing documents in order to commence an orderly wind-down."
Weinig and Aiken left Goldman Sachs in 2013 to found Malachite. The fund has returned about 10% to investors on an annualized basis since its inception through January, according to an internal document obtained by Bloomberg, but it's unclear how it performed in February and March.
Alexandra Umpleby, a spokeswoman for BNP Paribas in London, declined to comment.
Malachite's prime brokers, which provide it financing and other services, are Goldman Sachs and Societe Generale SA, the document shows. Maeve Duvally, a spokeswoman for Goldman Sachs, and James Galvin, a spokesman for Societe Generale, declined to comment.
One of the fund's three key strategies was to "capture short-term volatility risk premium within the global equity markets," according to the note. This is typically jargon for a complex bet that volatility will prove lower than what other investors expect.
Wall Street's so-called fear gauge -- the CBOE Volatility Index, or the VIX -- had hovered around record lows for years until the coronavirus triggered social disorder. Malachite returned 22% in 2016 and 21% the following year, the note shows, and won praise for figuring out how to profit from such moribund markets.
In a May 2017 interview, Weinig said the fund had about $300 million under management. He predicted Malachite would triple its size.
"We have told our investors that we will close fundraising as we approach $1 billion," he said at the time. "We would much rather be a really strong $1 billion fund where we can really outperform and take advantage of less liquid, more idiosyncratic opportunities."