Surging Libyan Oil Output Nears 1 Million Barrels a Day
Libya's Daily Crude Output Surges to 800,000 Barrels
(Bloomberg) -- Libya's oil production is rising rapidly toward 1 million barrels a day, as a truce in the nation's civil war allows the state energy firm to ramp up operations at previously idled fields and ports.
Daily crude output has reached 800,000 barrels and the country is targeting 1.3 million by the beginning of 2021, Mustafa Sanalla, the chairman of the National Oil Corp., said in an interview Saturday in the eastern city of Brega.
The OPEC member was pumping less than 100,000 barrels a day in early September. The revival of production has taken oil traders by surprise and weighed on crude prices just as a resurgence of coronavirus cases hammers global demand for energy. Benchmark Brent crude fell 10% last week to $37.46 a barrel, its lowest level since May.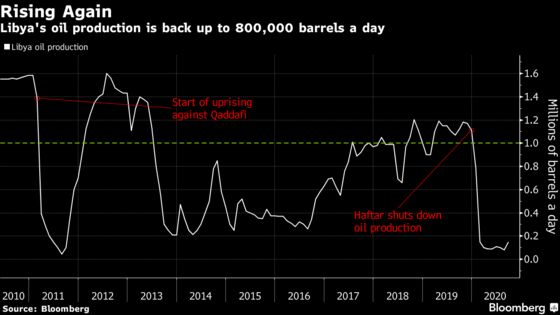 Output at Libya's biggest field of Sharara, in the west, will rise to 245,000 barrels daily this week, said Nuri Esaid, chairman of Akakus Oil Operations, a company based in the capital of Tripoli. Sharara will pump around 300,000 barrels each day by the end of the year, he said on Saturday.
The eastern Waha oil field, one of Libya's biggest, resumed production on Saturday, according to Ahmed Ammar, chairman of Al Waha Co.
The NOC plans to increase Libya's output to 1.6 million barrels daily -- around the same level as before the 2011 uprising that ousted former dictator Muammar al-Qaddafi -- by the end of next year, Sanalla said. That will depend on the NOC getting enough money from the government to repair damaged and neglected infrastructure, he said.
The extra Libyan barrels flooding the market are proving a headache for OPEC+, an alliance of the Organization of Petroleum Exporting Countries and others such as Russia. The group was set to increase production by almost 2 million barrels a day in January -- part of a plan to ease cuts started in May. But it may be forced into a delay with crude prices tanking again.
While Libya's strife exempted it from the supply cuts, the Arab nation will coordinate with other OPEC+ members, according to Sanalla.
"We're interested in achieving a balance in terms of supply and demand," he said.
Libya's oil industry was mostly closed in mid-January when Khalifa Haftar, a Russian-backed commander trying to defeat the United Nations-recognized government of Prime Minister Fayez al-Sarraj, blockaded ports and fields. Haftar lifted his blockade around six weeks ago following a cease-fire in June. That truce was formalized by the two sides this month.